Magento Website Design
More than a pretty website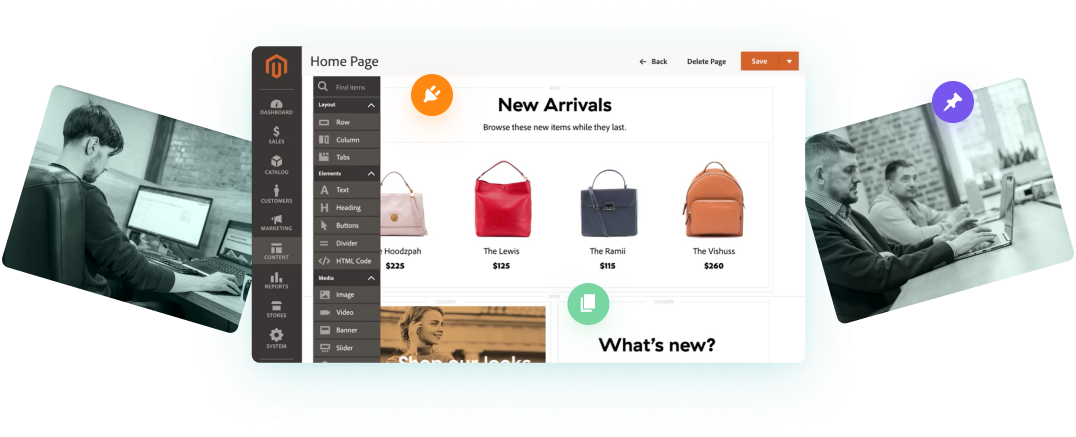 What's behind Magento Web Design?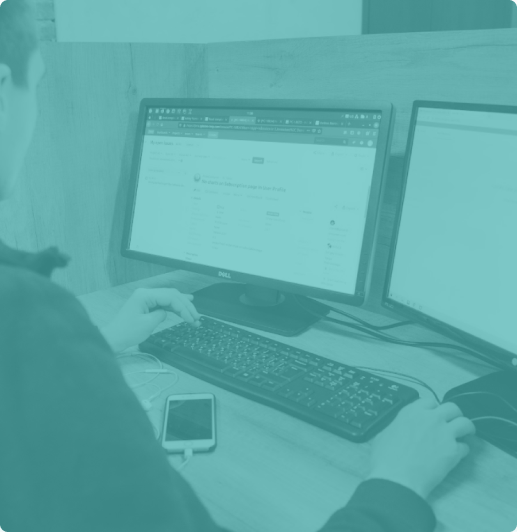 What is this service about?
Magento website design creates user experience (UX) and user interface (UI) for Magento eStores. Magento comes equipped with a variety of templates possible to edit on the CMS platform. However, creating a responsive design and taking the site to genuinely high-end levels requires much technical work.
What does it mean?
Our creative designers, UX specialists, technologists, business analysts, and marketers will work with your team to produce clean and elegant Magento store designs for effortless navigation, custom product collections that help your customers find the right products.
Why is it important for the business?
Catchy and immersive digital experiences build customers' trust, drive high customer engagement, and increase conversion rates. The most ambitious brands power their online presence with Magento design.
Magento Design Services

Outsource
We can cover any Magento website design bespoke needs. Whether you're after a simple brochure website or a complex eCommerce website, we'll create something striking and functional.

Redesign
Whether your eStore looks outdated, doesn't express your brand identity or takes too long to load, your customers won't be interested in your offerings. Our Magento design services will help you to adapt and improve your eStore.

Theme Development
We offer stunning and intuitive Magento 2 themes design that will easily adapt to the various screen sizes and types, making your website mobile-friendly.
When Magento eCommerce WebDesign is what you need
Incompatibility
If your online store design is not responsive, you risk letting your competitor gather all mobile traffic in your niche. When customers quickly get what they need on their mobile device, conversions increase, and Google ranks your eShop higher.
Long load time
Web design is not only a visual front-end affair. If your eCommerce website loads in less than two seconds – great. Other than that, your shopper won't stay. To tackle this, our Magento experts offer comprehensive analysis and best practices from architecture planning to post-deployment.
Outdated design
Your story has lost its spark and went stale? A Magento web design company can brush it up or even give it a complete makeover. As a result, a fresh and optimized online shop will keep your customers checking in.
Our approach
Why Magento Website Design makes a difference

Turnover
Finer web design results in the proper catalog managing and reaching your promotion plans. Ultimately, it leads to a boost in your sales.

Convenience
Flawless design advances easy navigation and quick search performance. A well-designed website ensures repeat customers decrease bounce rates.

Trust
Pleasing aesthetics change the customer's perception of your brand's reputation. This enhances the trust factor among your customers.
Why choose our Magento design service?

Commitment
We are a Magento web design company that focuses on your business and your online marketing goals. Our custom design proved to encourage sales.

Diligence
Our Magento eCommerce web design adds value to your business and reduces lost time and effort. We are accountable, responsive, and flexible.

Transparency
No hidden charges. We are transparent from a mockup to the launch. Our knowledge, expertise & skills enable us to deliver on time.
How we helped our clients
Our clients say

Chief Operations Officer, Swiftic
Website Development for Mobile App Publishing Solution! They turned a stalled project into a highly functional website that met internal expectations. Expect WiserBrand to establish a responsive partnership and offer useful field-specific advice. They can be counted on to meet deadlines.

CTO, eCommerce Furniture Company
SEO & Web Development for eCommerce Furniture Company! In addition to the quality of the services and deliverables they provide, WiserBrand has also improved the company's online performance and conversion rates while identifying other areas in need of attention. They're a one-stop shop, offering a variety of services and a large team of resources.

CEO and Co-Founder, DeviQA
Dev Outsourcing for Testing Firm! End-users are pleased with the delivering WiserBrand worked on, and internal stakeholders report positive cost savings. Wiser maintains availability across multiple channels, ensuring a smooth workflow. Their resource's individual technical skills and commitment are highly notable.
Complementary services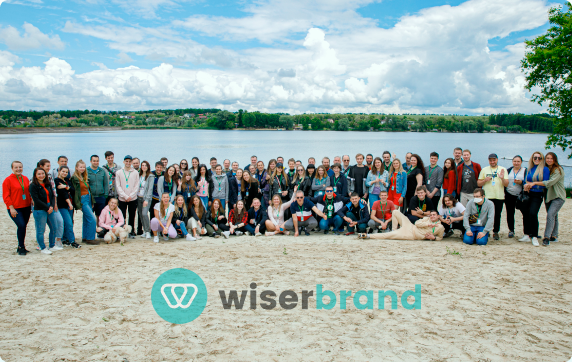 Not only can we create a custom Magento web design, but we can meet all your eCommerce needs. Whether it is about keeping your site supported or needing a proactive partner to enhance your team, WiserBrand acts as the Magento mate for your company.
Reach out to get started
We'll help you grow to your full potential