SEO services outsourcing for your eCommerce store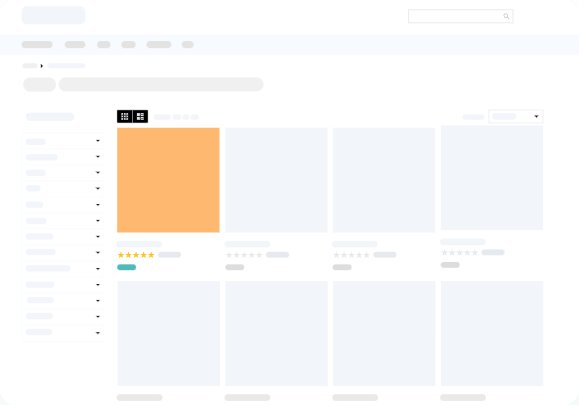 Why are search engine optimization services crucial for your eCommerce business?
Search engine optimization for B2C is a convenient stepstone to increasing your business's revenue and enabling a consistent stream of sales. By optimizing your platform and tailoring content to your ideal customer, you're able to rank higher on the search engine results page (SERPs) and increase organic traffic to your business's website.

Building a smart SEO strategy allows you to predict customer intent, as well as utilize "white" techniques that are safe and free from risks related to algorithms flagging your website, in order to appear on "the first pages of Google" or any of the other search engines and motivate potential buyers to click.

Competitor analysis provides you with comprehensive data that is crucial for small business SEO services, as it empowers you to develop strategies for effective optimization which would help your brand stand out – this is a perfect opportunity to learn from other's mistakes to dominate the market.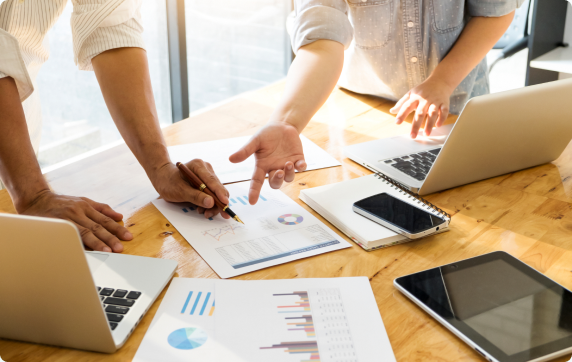 Increase your eStore's revenue
1
Keyword research
Our eCommerce SEO consultants collect a semantic core to reach the target audience the best way.

2
Competitive auditing
We are proficient at conducting SEO website audits and defining how to outperform the competition.

3
Website structure development
Website hierarchy, optimized images help shoppers find products and Google rank them higher.

4
Implementing structured data
Marking up content, proper metadata refreshing, eye-catching CTAs will draw in customers.

5
Local SEO
WiserBrand eCommerce SEO consultants revise on-page visual content and info on your platform.

6
Speed optimization
Faster-loading pages let you rank higher in organic results and lead to a lower user bounce rate.

7
Link-building
Internal and external links will increase the website's credibility and distribute the hyperlink.

We provide only professional search engine optimization services:

Staying on top of the trends
Our SEO specialists have experience with multiple e-Commerce platforms and suggest changes that correspond with the latest industry trends and Google algorithm updates.

Transparency and communication
We weigh our decisions carefully and walk you through all pros and cons, picking the best strategies and tools that will benefit you in the long run, without any baseless promises.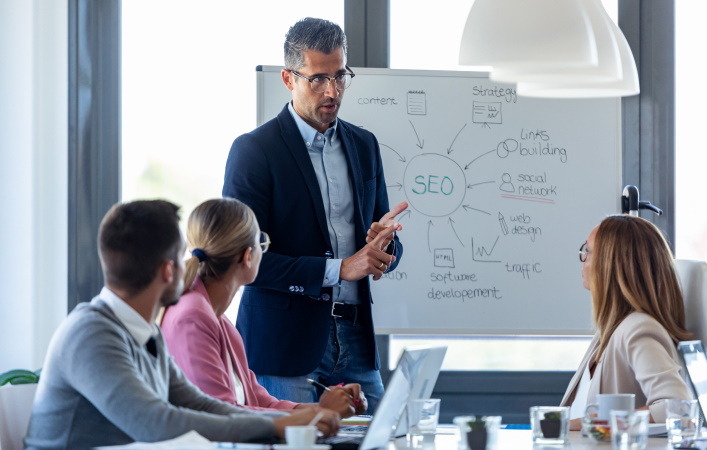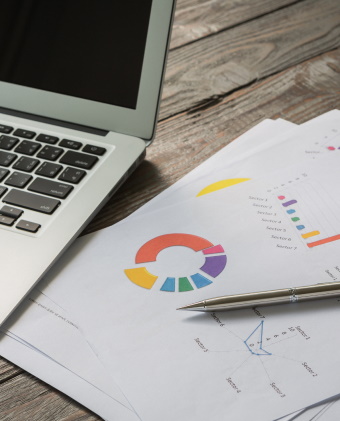 Customer-centric strategy
Our approach to each business is completely unique to their customers, backed by the analysis of your competition and specific metrics to satisfy clients' needs.

Smart budget distribution
By combining a thorough workflow, task prioritization and manual/automatic balance allow us to be flexible with your budget and keep your bills at a reasonable level.

Clear regular reporting
We constantly monitor ranking dynamics and performance metrics for your website to keep track of the progress, delivering comprehensive and frequent reports.

Secure approach to optimization
We only utilize white SEO tactics, since our specialists stick to the tools and tactics that are safe in the long run, never exposing your website to the potential danger of penalties.
WiserBrand's eCommerce SEO experts have over a decade of experience on the market
One of our strongest advantages is the fact that WiserBrand as a company has been working to provide search optimization services for 10+ years, and most of our projects to this day are eCommerce platforms of various scopes and ages.
This specialized experience in eCommerce platform optimization gave our experts proficiency in working with this market, utilizing the practical knowledge to offer advanced search engine optimization that actively helps brands grow in sales and profits
We choose to go in-depth with our clients, as observing buyer behavior and ensuring flawless eCommerce platform performance is detrimental to helping your business gain traction.
How we helped our customers?
WiserBrand eCommerce SEO agency is versatile and custom-fit for every business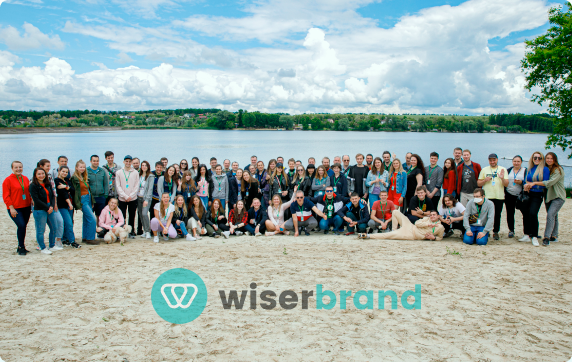 Our SEO specialists have been working on providing a complete range services for brands and platforms of all scales – newly established websites, small businesses or thousand-page eCommerce shops.
We recognize how difficult it might be to launch or migrate your business into online space, which is why WiserBrand provides advanced services for new websites, including a range of options like creating your custom search engine optimization strategy, analyzing the market, collecting keywords to create the semantic core, establishing the page structure and much more.
On the opposite side of the spectrum, our team has extensive experience for big eCommerce stores that are already well-established on the market, offering support and professional SEO services for Magento, Shopify, WordPress, etc.
Feedback

Trademark Owner, Dom Kofe
Traffic and conversions showed growth soon after WiserBrand came onboard, which resulted in an expanded portfolio. Clear and frequent communication enables expectations and requirements to be well understood by both sides. Customers can expect a constantly helpful and generous partner. So far, it is the best SEO company in USA that we managed to work with.

Co-Founder, DeviQA
We have been working with WiserBrand for several years, and our company is delighted with the efforts that WiserBrand's team puts into every project. End-users are pleased with the delivering WiserBrand worked on, and internal stakeholders report positive cost savings. Wiser maintains availability across multiple channels, ensuring a smooth workflow and recruiting the best Magento developers from NYC. Their resource's individual technical skills and commitment are highly notable.

Legal Assistant, Law Firm
The team's efforts have improved the website's ranking and the firm's overall online presence. WiserBrand delivers high-quality work thanks to their expertise, creative ideas, and diligence. Constant communication, regular updates,best SEO and quick response times are ensured by this company in NY.
SEO company for small businesses are key for growing your brand and increasing sales
Getting your product or service out there is the most important thing for businesses looking to expand their customer base and generate more revenue. Search engines are one of the primary methods for people to discover new brands, which makes
optimization a priority for small businesses.

Expanding your business in a competitive market is no easy feat, and eCommerce website optimization services allow you to achieve consistent results much faster than if you were to let your platform grow on its own.

Organic search engine optimization services specifically target the solution to reaching out towards new audiences with relevant leads, generating an influx of new sales and establishing a loyal customer base.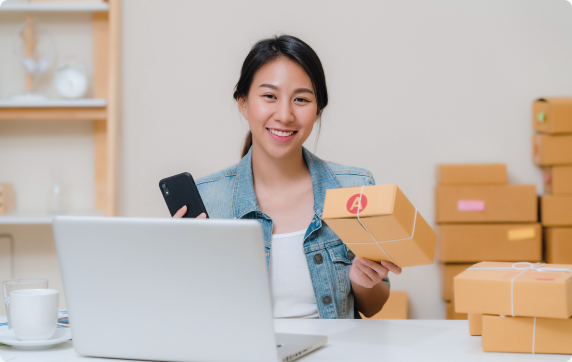 Reach out to get started
We'll help you grow to your full potential