Restaurant Marketing Agency
Looking for more advanced approaches to promote your restaurant? Digital marketing makes a perfect match with on-demand businesses, and WiserBrand is here to help your restaurant marketing go online. Our restaurant marketing agency will make your establishment stand out with our all-in-one promotion services.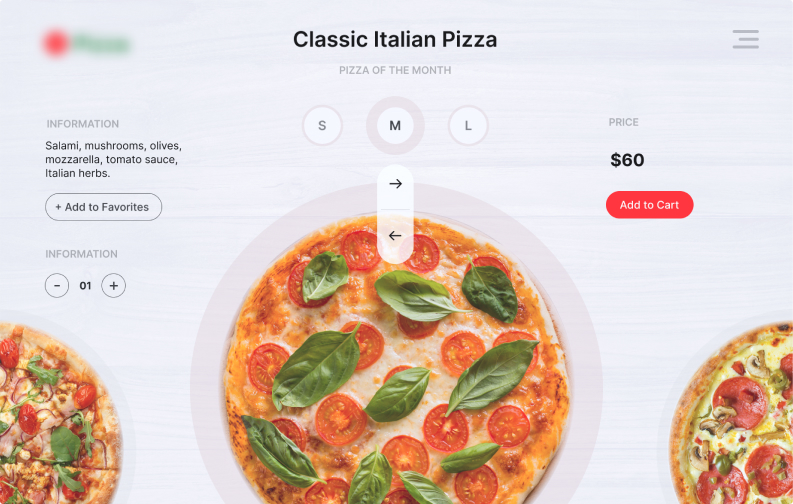 Why Restaurants Choose WiserBrand for Marketing and Promotion
In-depth business analysis
Being well-versed in a hospitality niche isn't enough to develop a strong marketing strategy. That's why our restaurants marketing agency always starts with careful business analysis and market environment research, grabbing winning promotional opportunities and finding competitive edges.
Individual marketing and promotion solutions
Depending on your previous promotion efforts and the digital marketing assets you already have, we will come up with a personalized marketing solution to сarefully meet your business goals.
Marketing and tech expertise in a single place
A great restaurant marketing service is a combination of marketing creativity and technical expertise. Our team stands out with both skills and would be glad to share our best practices and battle-proven promotional tactics.
Accurate testing and validation
We stand for careful testing and ideas validation, scaling only those marketing tactics that generated quality results. With us, you can be sure that you are on the right track.
Growth-focused Marketing Services for Restaurants
Marketing strategy
If you are new to digital marketing, get started with creating a strong and thoughtful marketing strategy for your restaurant. Our best marketing minds will help you find promotional opportunities, define your strong and weak points, and build the most effective marketing strategy with your budget in mind
Search engine optimization
Looking for ways to get your restaurant instantly discovered online? There is no better tactic than search engine optimization with a local touch. Get in touch with us, and we will help you set up Google My Business profile, get featured in local directories, and create an SEO strategy for the long run
Content strategy development
SEO and content marketing go hand in hand. At our restaurant marketing company, you are welcome to get both services. Instead, focus on serving your customers while we are boosting your positions in organic search results with optimized and engaging content
PPC advertising
PPC advertising is an ever-green opportunity to quickly attract new visitors to your website, raise your brand awareness and boost your conversion rate in a flash. The trick is that the users clicking on your ad already have a strong intent to order a meal online or visit an establishment near them, so the probability of turning leads into customers in several minutes is extremely high
Social media marketing
Having no social media presence to date? You are missing one of the best opportunities to attract new visitors and build relations with regular customers at once. You can do this all with a single platform, for example, Instagram, which is especially winning for restaurant marketing because of its visual nature. Ask our SMM experts for help with Instagram and Facebook account setup, content strategy development, content creation, and social media advertising
Review marketing
Marketing and legal support services have one thing in common. They both require strategic and logical thinking, careful analysis and step-by-step planning. Stay better focused on helping your customers restore justice while our marketing agency for legal firms takes care of growing your business online
Turn Occasional Visitors into Loyal Customers with our Restaurant Marketing Services
Get discovered in a flash
More than half of all online searches are the ones for local businesses, including on-demand services. Local SEO combined with PPC and social media marketing is a great opportunity to raise awareness locally and launch word of mouth.
Stay in touch with your customers
Appreciating your tasty food and great customer service, your loyal customers would also be happy to stay in touch with you via social media. With bright and engaging social media profiles, you will always be in their spotlight, encouraging your customers to make repeated orders online or visit your restaurant personally.
Attract new visitors
The combination of well-validated PPC advertising tactics and smart SEO will attract new visitors to your restaurant day after day. The only task remaining is to convert them into loyal and regular customers by sharing engaging social media content and communicating with the target audience via social platforms.
Drive online bookings and orders
The main goal of an omnichannel digital marketing strategy for a restaurant is increasing the number of visitors, bookings, and orders. With our help, you will be able to achieve it.
Reach out to get started
We'll help you grow to your full potential
FAQ
What is restaurant marketing?
Restaurant marketing covers all the efforts related to the promotion of an establishment. Speaking of digital marketing for restaurants, it usually includes search engine optimization (SEO), search engine marketing (SEM), social media marketing (SMM), content and influencer marketing, plus additional tactics depending on the business goals.
How much does restaurant marketing cost?
The cost of restaurant marketing directly depends on the scope of services you would like to get, the location of your marketing vendor, and the budget you are ready to invest in promotion. Usually, small businesses invest 7-8% of their revenue in digital marketing and proceed with investing in the activities that match their business goals best and drive quality results. Medium-to-large companies spend 11% of the company's budget on marketing activities.
Why is marketing important for restaurants?
High competition in the hospitality industry is the main reason why marketing is important for restaurants. Digital marketing strategies are especially effective in promoting a restaurant since most users search for new or suitable establishments online, comparing the reviews and prices.