Fintech Web Development Services
Fintech-specific web solutions that meet the complex and ever-evolving needs of businesses and consumers in the financial services sector
Our offerings for financial services businesses
Tailored fintech apps
Enjoy fast, real-time data interaction for a range of critical finance activities. We can create crowdfunding, lending or open banking platforms, wealth, accounting, investment management, digital wallets, payment gateway solutions, point-of-sale systems, and more.
Engaging UI/UX
We provide high-impact UX, putting powerful fintech tools at users' fingertips for fast and intuitive navigation. Our team combines innovative web practices with consumer behavior studies to increase conversions and maximize outcomes.
Seamless integration
Our expert development team enables easy data access with APIs, allowing partners and developers to join up with your products. So, you can integrate popular FinTech systems such as payment gateways, accounting software & CRMs into your workflow.
Agile financial data management
We provide data governance solutions for mastering data across your organization, data analytics for informed decision-making and growth, and continuous improvement to evolve and enhance your data-driven experiences.
Robust cybersecurity and compliance
We keep our solutions up-to-date with local and global standards protecting financial data. Our advanced technology protects against online threats with multi-factor authentication, encryption, and secure data storage.
Efficient process automation
We deliver real-time, event-driven orchestration tailored to your business. Our cloud solutions tap into the latest tech to provide solutions that automate your tedious processes and forget about manual data operations.
Our comprehensive suite of solutions
Digital banking apps
From simple balance inquiries to complex investment strategies, our apps offer a seamless banking experience with features like bill payments, money transfers, and real-time account information.
Payment gateway
Our solutions allow clients to make online payments conveniently and safely, with flexible payment options and support for various currencies.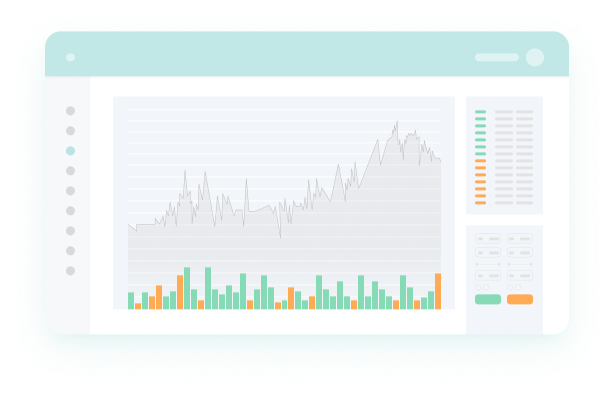 Investment management platforms
Such systems offer diverse investment options and tools, from portfolio management to risk analysis.
Trading and exchange platforms
Our smart and fast investment management solutions support multiple currencies and digital assets, providing you with intelligent trading automation and advanced mobility options.
Centralized and unified backend solutions provide a comprehensive view of the business processes. We combine different financial service components for an ultrawide business perspective.
Consistency in your finances with ease – featuring real-time financial reporting, you can trust us to maintain accurate and reliable financial data for your business.
Blockchain-based solutions
With features like smart contracts and decentralized systems, the software we create uses cutting-edge blockchain technology to ensure the integrity of financial data and transparent transactions.
Technologies Powering Your Fintech Success
Our Approach
Comprehensive app strategy
Our financial app development process starts with a thorough analysis and planning phase.
Intuitive and appealing design
We use prototypes and wireframes to create an intuitive and visually appealing UI and UX.
Financial Software Development
Our team codes and builds the app with all the necessary features and functionalities.
Extensive Testing
We test the app extensively to ensure there are no bugs or errors. ………………… ……….. …………………………. …………………….
Ongoing Maintenance and Support
We offer complete maintenance and support for your app to perform at its best.
FAQ
How do you ensure scalability and flexibility in your fintech software development projects?
Our cloud architecture, microservices approach, and agile methodologies are all employed to create robust solutions tailored to our client's exact needs. We ensure reliability through rigorous testing standards so that their solution is sustainable yet adaptive.
Can you help integrate my fintech solution with existing systems or third-party services?
We specialize in creating flexible and scalable solutions that seamlessly integrate with various platforms and services – from payment gateways to accounting software or CRM systems. No matter the complexity, our experts are ready to make it happen.
How does your onboarding process work when starting a new fintech project?
At the beginning of your partnership, we'll dive deep into understanding what you want to achieve. Our team will then craft a project plan tailored for you and keep in touch throughout development, delivering value where it matters most.
Can you provide custom fintech solutions tailored to my business needs?
With every project we undertake, scalability is key – ensuring you receive the perfect fit no matter how complex or small your requirements may be. We've established an outstanding track record for delivering reliable services that keep surpassing expectations.
How do you ensure the security and compliance of the fintech solutions you develop?
We don't just prioritize security – we zealously guard. Our fintech solutions are fortified with the latest technology, multi-factor authentication measures, encryption tools, and secure storage methods to meet local and global compliance standards.
What cooperation models do you provide?
We offer flexible cooperation models tailored to meet the unique needs of our clients. We provide both outstaffing and time and material options to ensure our clients can choose the model that suits their specific requirements and budget.
Reach out to get started
We'll help you grow to your full potential