Successful eCommerce Customer Service: Delighted Shoppers First
Contents:
The world is already unthinkable without eCommerce, which has become an integral part of the global trading system. Due to the ongoing digitalization of life, consumers now benefit from online transactions.
Just as Internet access grows worldwide, the number of digital buyers will also continue to grow. According to Statista, more than two billion people purchased goods and services online in 2020, and e-retail sales exceeded an astronomical amount of $4.2 trillion.
And this is just the beginning. Without a grasp of what is an eCommerce business, it is unrealistic to attract and retain customers with prices alone. They prefer quality service and pay attention to the attitude of suppliers of goods and services. This is what now determines the stability of a business. Having significant experience in this area, we decided to share our vision of effective eCommerce customer support.
What is eCommerce Customer Service?
It is the process of providing customers with seamless assistance with everything - from purchase decisions to problem-solving across all available channels and platforms.
Customer service provides the foundation to support buyers across eCommerce platforms throughout their entire lifecycle. Quality customer service is always a priority, but online business support must address any unique challenges associated with serving digital consumers, such as:
A large volume of requests;
Issues related to products, order fulfillment, and returns;
Multi-channel monitoring with fast response time.
Your support team should be your brand's representative and the front line in the fight for customers and increased sales. The primary voice of your brand should not elude your stakeholders. It's essential to focus on process, not just emotion, to make scaling your business much more manageable.
In a digitally oriented world, customer service sets the stage for success. eCommerce empowers the consumer to find the best deals and service available; moreover, according to Microsoft's report, service is the deciding factor for most consumers.
Poor service in a highly competitive environment ultimately leads to poor retention, negative marketing, and lower profits. As reported by Shep Hyken, the global business loses up to $75 billion a year on poor service. And WalkerInfo claims that by the end of this year, the quality of customer service will become a key indicator of brand performance.
Why is the client not happy?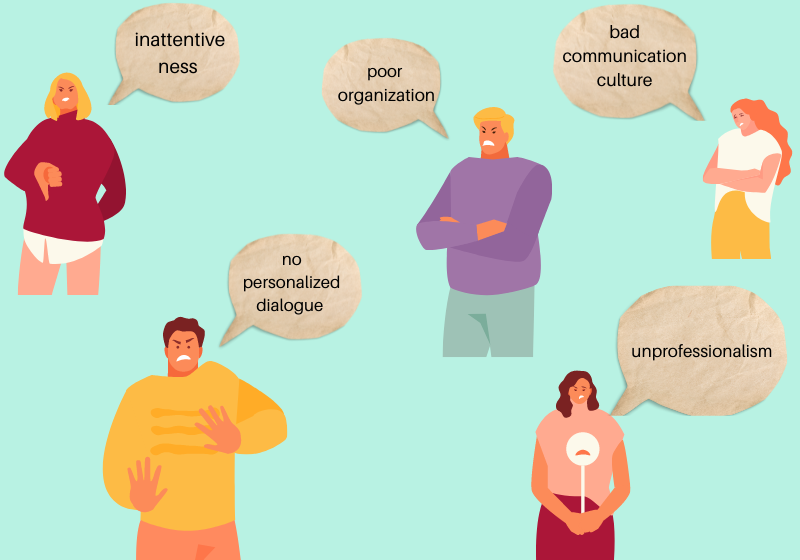 Online customer experience management is based on the simple idea of giving the customer what they want. As a rule, a poor customer experience deters customers. The main reasons for many companies' problems are as follows:
inattentiveness - customer service fails to make customers feel valued by the brand;
unprofessionalism - consumers don't get answers, or their questions are ignored;
lack of communication culture - uselessness or even downright rudeness of employees;
inability to conduct a personalized dialogue - it's better if one person undertakes the communication with the consumer;
poor organization - clients spend a lot of time waiting.
In such cases, a well-prepared eCommerce customer service representative or quality outsourcing service usually helps.
Our Recommendations
No matter how powerful is any of your marketing strategy execution, process plays a crucial role. At the forefront of business, the customer service team plays a key role in building customer relationships and building trust in the brand, its products, and services. We believe the tips below will help you put together an effective retailer customer service.
Stay organized and motivated. Clear organization is essential to the success of any project execution process, including such a necessary part as customer service. Keep track of conversations, use a single inbox, and equip your team with advanced tools to help keep customers on your pages.
Get to know your customers' requirements. Some people prefer Facebook, others Twitter, or chats. A personalized approach to each consumer will make them feel special. It will help form meaningful, long-term relationships, so it's imperative to create a multi-channel customer service strategy.
Enable self-service. Approximately 2/3 of consumers prefer automated service through a website or mobile app. Knowledge bases are the most preferred among all self-service channels, allowing you to create, publish answers, and reduce customer support by 20%. The less effort required by customers, the better - if it's too complicated, time-consuming, or incomprehensible, they'll leave.
Pay attention to personalization. Clients want quick answers, personalized attention, and expert advice.
Use customer testimonials. They are one of the main factors in the purchase decision and a great source of ideas for improving the quality of service.
Make sure your site loads quickly on any PC, mobile device, and operating system. Companies must be proactive in solving customer problems by constantly improving data-driven processes. Simplify any processes you can.
Reduce your response time. Customers expect a fast response time. The key to good team performance is a balance between speed and convenience.
Evaluate the performance of your support team by channels, customer-relevant topics, during your busiest hours, and then measure and optimize results. This will be the first step toward successful customer service.
Focus on website navigation and search. Limit unnecessary clicks and implement features like auto-scrolling to keep users from losing their interest. Invest in good site search technology.
Provide your customer with quick communication, so they can get a quick quote or sign up for a newsletter. They don't have a lot of time, and they don't want to waste it looking for your phone number or email address.
Offer free delivery, which will make the buying process more transparent and increase customer satisfaction.
Give as much truthful information as possible. That way, the client can feel like an important person and will be able to make compromises if he does not immediately like your work for an objective reason.
Keep employees involved in all stages of sales, up to home delivery. Failure to deliver on time is a disaster! But the customer must be warned. They have to understand that they are not alone, and if anything happens, a large team of professionals will come to their rescue.
Have a genuine conversation with the client. Remove any robots from this chain. Use well-constructed speech. The client and the service provider must fully understand each other.
Make the chat helpful. Not all clients are the same, but you have to treat everyone in a humane way without exception. The conversation should be lively, preferably with several clients at once without long waits. Snobbery and negligence in customer chats can lead to negative consequences.
Ensure effective communication. A friendly attitude is an integral part of any communication, but efficiency and a solution are much more critical for the client with a problem.
Say No to pointless expectations. Respond quickly. Issues resolved within 24 hours make customers happier. When a problem can't be solved, you need to keep the customer informed and alert them to deadlines.
Hire empathetic employees. It makes it easier to understand other people's problems and fosters strong, trusting relationships. The first step to building brand loyalty is to put yourself in your customer's shoes.
Regularly improve your employees' qualifications. Organize training for them and provide a full knowledge base.
Keep track of the processes. Analyze the existing procedures and update them once you notice they can be improved.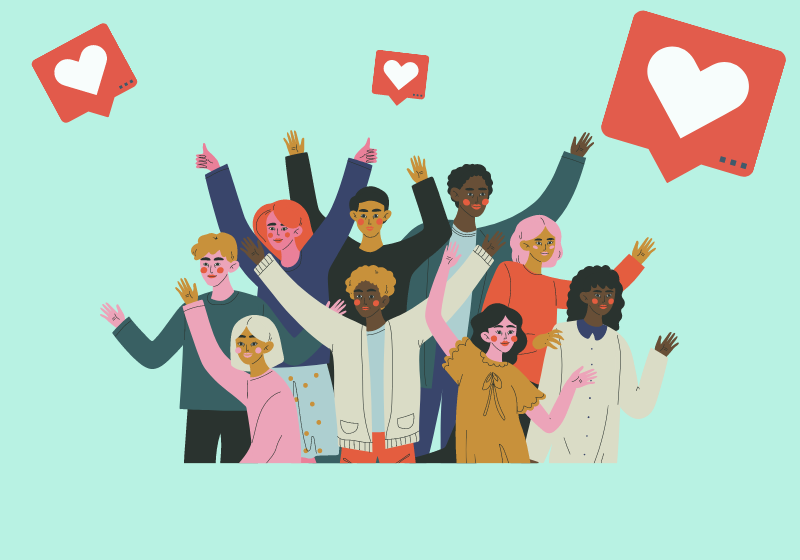 In fact, all the essential advice boils down to one thing: be attentive, simple, quick, and utterly frank. Just remember, the two basic shopping goals of consumers are customer satisfaction and customer service. Put yourself in the customer's shoes, and act as if you were the one ordering your goods and services. And, of course, take every opportunity to surprise your customers.
Since customers come and go quickly, eСommerce relationships tend to be fleeting. However, if you can't provide an impressive experience with them, they are unlikely to remain loyal.
Conclusion
As customer expectations for online sales increase, service becomes an important factor in thriving in a competitive eСommerce environment. It's a growth engine for eСommerce brands providing a competitive advantage and one of the few trends that will persist no matter how big or small your market is.
Start with simple tools to build a solid foundation. Then create systems that will allow your support team to scale resources and make personal connections with customers. Completely and continuously reinventing an online shopping experience and incorporating high-performance best service practices will help retain and increase customer lifetime value, as well as attract new customers.
Need quality customer service and want to succeed? Don't waste your time - turn to professionals. The WiserBrand marketing team will promptly develop and implement the best customer service strategy for your online store or any other digital platform.