Growing your brand online. The strategy that works

Contents:
What is the difference between successful big brands and other companies? The answer is simple - big companies are, actually, brands. So, building your company and developing a brand are not the same things. And the problem is that too many people underestimate or just don't understand the importance of growing a specific brand strategy.
This article will define the" brand" and reveal a strategy to transform your business into a powerful brand.
What is a brand?
When we are trying to determine a brand, people are thinking about logos or a company's name. But these are, actually, only minor parts of the concept.
The brand is an experience of people negotiating, working, or interacting with your company and how they perceive you. It is something that highlights you among competitors and won't let your clients confuse you with anyone.
Branding your business is about making an indelible impression and pursuing customers that you are the best choice. There are two superior brand-building strategies, which we will tell you down below.
Brand recognition vs. brand awareness
Brand recognition and brand awareness are pretty often interchangeable, but they are not the same.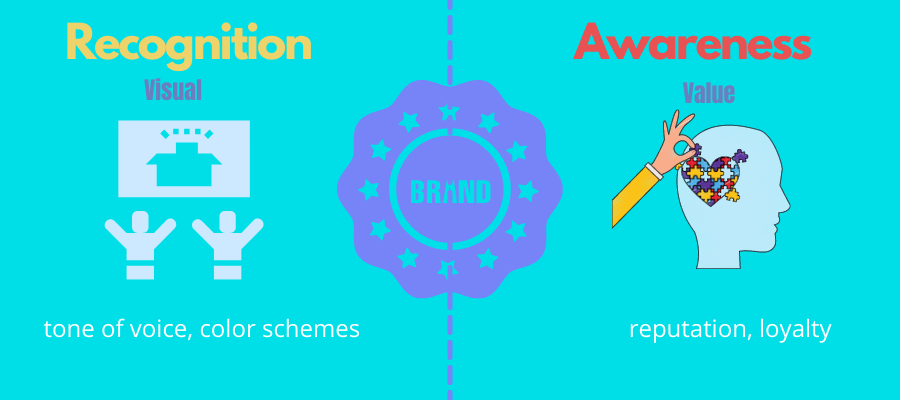 Brand recognition is your visual. This is the picture, which targets the audience or public. Beyond logos, it includes your brand's tone of voice, color schemes, and all the visual effects. Referring to all these, customers will recognize your brand among others. Brand recognition is about being in the minds and on the tip of the tongue of everybody.
Brand awareness logically follows from recognition. Brand awareness is what customers know about you. Your habits, values, vision, reputation. The metric of brand awareness is customer loyalty. Because clients give their trust only to verified companies, that means the product's quality is at the heart of brand awareness. That is what makes your product outstanding and the reason for people to choose it.
What is branding in marketing?
Branding in marketing is a long-term marketing strategy to increase sales. It is directed to the company's audience, to call attention to your values, and to promote a brand on the market. Brand marketing, essentially, is a connection between customers and services provided by the company.
When we talk about the promotion, it doesn't mean leaving your brand name on every corner. Instead, focusing on questions like what type of advertisement to choose to receive the best outcome, how to set up your brand strategies to customer expectations bring better results.
Wiserbrand's B2C content marketing serves these purposes. Wiserbrand experts will help you build your online business equity and lead you in a rapidly developing marketing brand environment.
Social media in the brand growth
The role of social media isn't overrated. Social platforms like Facebook, Instagram, Twitter, etc., are fine instruments for building your brand.
With social media development and power came the era of influencers.
How social media influencers can be helpful for your brand marketing company?
According to ION, 49% of Twitter users reckon that they trust influencer's recommendations. That only proves the effectiveness of working with famous social media personalities. Some big companies spend hundreds of dollars on blogger promotion, but you don't need to have a million-dollar budget.
There are plenty of micro-influencers, who have not so extensive an audience, but much more specific ones. You can identify the most relevant to your product segment, and based on this, choose the most appropriate influencer.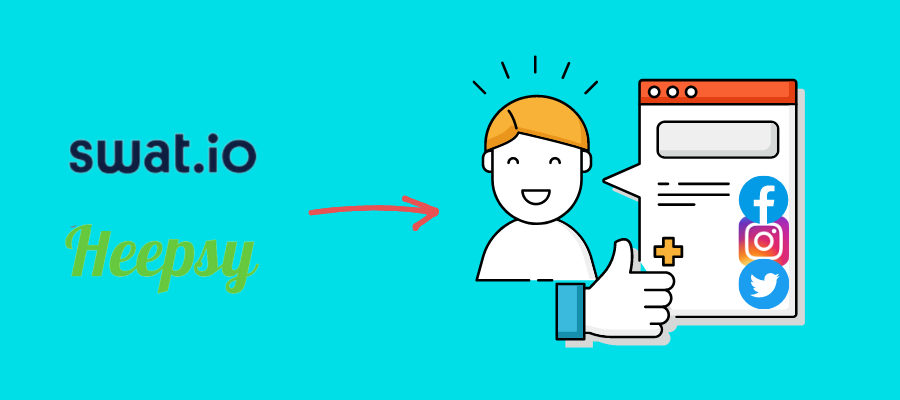 But how exactly to understand which blogger suits your branding strategy and which are not? Using specific tools will be the answer.
Platforms like Swat and Heepsy assist in connecting influencers with brands and deals with influencer payment options.
Now, when you know how the brand system works, it's time to pass to the head question and how to build a brand?
Steps to develop a strong brand
First, your goal is to create a long-lasting strategy, which will combine both brand recognition and brand awareness. However, there should be two different teams, working separately on each of them and promoting their branch. At the same time, they should understand what the other team is doing and cooperate to deliver a great result on all fronts. So, the first part is going to be about the best brand recognition tips.
Brand recognition strategy tips:
1. Drive emotions
Every digital branding strategy begins from a little bit of psychology. To convert stakeholders into brand followers, you have to invent an emotional association with your company in people's minds. This, of course, is related to competent advertising ( we all instinctively thought of Coca-Cola), but it doesn't mean spending considerable amounts of money.
Delivering outstanding customer service and exceeding expectations is a strategy. Positive emotions, which seem like a pleasant bonus for customers, are actually boosting sales. That way, you have to make your brand name the synonym of quality and good memories.
2. Brush up infographics
Yes, this is a part in which we are developing a logo), but it is not only about this. As we already said, brand recognition is built on visuals. That means every visual aspect should bring information to customers. Also, nobody likes to read dry material and walls of text, so pictures can assist in better perception. Moreover, infographics are among the most shareable content, so don't forget to put your logo on it, too. Thus, while sharing, more and more people will associate your company with delivering knowledge to them.
3. Develop the concept
One of the first things to do when you want to build a brand online is your concept and appearance. You have to think about three key points: brand story, brand voice, and PR campaign.
Everybody likes good stories, especially with happy endings. Tell your customers the story of your success, what inspired you, or which difficulties you did overcome. In this way, you will share some emotions and help customers become closer to your products and vision.
Brand's voice is of the same importance as the logo, but it is a sound component. You have to identify which style of narration suits you. For example, if you are working in the IT field, you are likely to choose a more casual, but at the same time matter-of-fact tone.
When you are in the planning stage for your market entry, a PR campaign is multiple solutions to make the first appearance. Press coverage will do its work by giving you the required credibility and persuade the audience to check you out.
4. Use guest-blogging
Another brand development strategy is guest-blogging marketing. Using guest-posting, you have a chance to impress the new audience and share some skills. You have to carefully decide where to post and find a similar blog, which onlookers will be interested in the data provided. Besides, it is a fantastic idea in the context of building authority for your brand
5. Target Social Media
Practice your brand promotion on social media like Facebook, Twitter, or Instagram, to increase brand recognition. Fill out your profile with bright photos and logos, create unique hashtags, and make targeted ads. Take advantage of social media tracking tools, like Facebook Pixel, to target visitors. Also, utilizing shoppable tags will make it much easier for customers to obtain from your original website. Besides, don't forget about social media like LinkedIn, where your promotion can become even more undemanding because of its particular orientation.
Brand awareness strategy tips: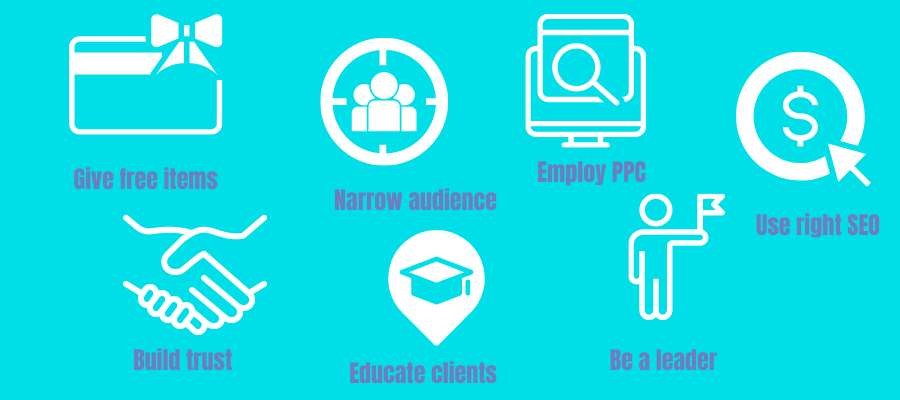 1. Know your customers
The foundation of every brand development strategy is clients. Who are they? How old are they? These are the core questions for your business because they will define the whole game plan. You should study your clients, beginning from their habits, preferences, the products they are already using, to demographics, their family members, and place of work. Don't target very extensive groups. Thereby you will lose huge money on engaging people who just don't want to be engaged.
2. Proclaim your vision
This part is about your brand's heart and soul, and by the way, it is one of the things that distinguishes brand-building companies from others. Brand awareness isn't about only visuals anymore. It is what you want to bring into this world, and proclaiming your ideas, publically will identify you as a leader. Being a leader is a vital characteristic for a brand, making people follow you. Widely known, Apple is an outstanding example.
3. Live up to expectations
Quality of product and content produced must be the priority for growing your brand. Don't promise the experiences, which customers won't get. Poor product or service standards will, sooner or later, lead to client dissatisfaction and will harm the whole company's appearance. Be sure that your product's negative aspects will quickly appear on social media and will badly influence your reputation.
4. Play it right with SEO rules
Working with search engine optimizations is a utility skill that you have to learn to answer a question about how to grow your business. Playing by Google's rules like looking for appropriate keywords, adding alt tags to images, using meta-descriptions, and making information on your website scannable will increase conversions and strengthen brand development. Also, it will enhance your credibility in the eyes of the public, as Google will put you at the top.
5. Use old but proven methods in PPC
PPC or Pay-per-click advertising is a long-known strategy when an advertisement appears while looking for something to purchase. The thing is that advertisers pay for each " click" on the popping-up ad. These ads are directly connected to SEO, which means the particular audience will only see your messages. Put some catchy headline and you-can't-miss-it proposal to encourage customers to click. This method is trendy, but it only proves its effectiveness.
6. Educate your customers
How do brands grow? They educate people. Education is the best way to show why you are better than competitors. Host a webinar and create podcasts. This type of content is prevalent because it allows negotiating with customers. Webinars let to share some skills, launch new development, or just answer questions. Podcasts are helpful in terms of audio perception. On the one hand, customers can listen to them anytime, and on the other, you provide all the information just within a limited amount of time.
7. Give for free, receive twice more
Encourage your clients by offering them something to try for free, and receive a loyal audience and publicity around your product. There are many options like referral programs, early access, or just giveaways. All of this is directed to engaging new customers and spreading word-of-mouth advertising. Even if it feels like a waste of money at first glance, be sure that this strategy will pay off.
Conclusion
How to build a company brand? Become a professional in what you are doing and a leader of people's minds. Knowing how to build brand awareness and recognition, you will thrive in today's market, and Wiserbrand can provide you with a highly effective team.