Lead generation tools. How to bring a crowd of customers to your business?

Contents:
Lead generation is something that every business uses. But if lead gen is so popular, why not every brand has enormous sales? While some companies still prefer old-fashioned calls, rigorous emails, and tools, in this article, we will show you the best possible lead generation strategies and lead generation software, which will transfer prospects into customers. 
What is lead generation?
Business lead generation is a process of recognizing the most appropriate customers and alluring them to buy your goods. We've used the word 'appropriate' because not every prospect has a demand for your product. Concentrating on everyone at the same time is among the biggest mistakes. You have to target people that are really in need of your services. In other cases, it will only bring you enormous spendings and irritation from unwanted data.
Anyway, it is essential to realize that sales lead generating works only with customers already lured by what you are offering. And as you can see on the diagram, persuading visitors to become leads is essential and challenging.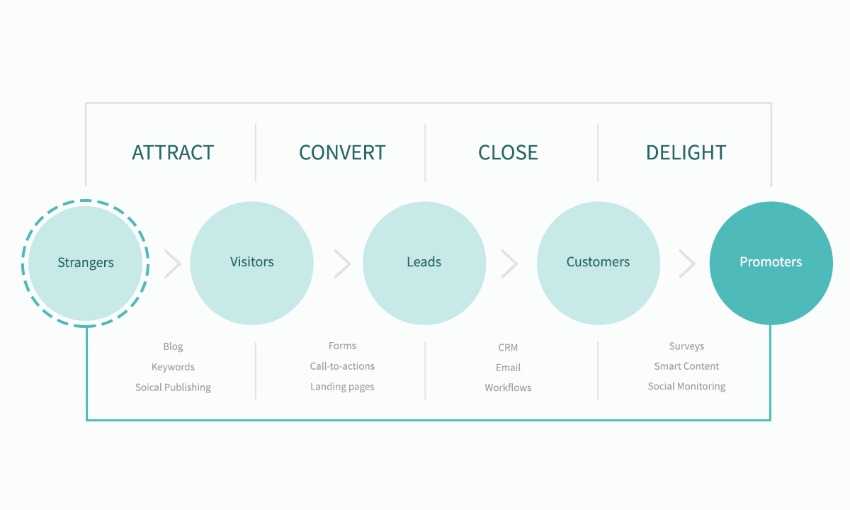 How to generate leads?
In brief, there are five main sales lead generators:
SEO
Content marketing
Email marketing
Social media
Website leads
All of these marketing concepts can be adapted depending on your demands and the customer market research. The main thing is to identify the most suitable for your business. The most effective we will negotiate below.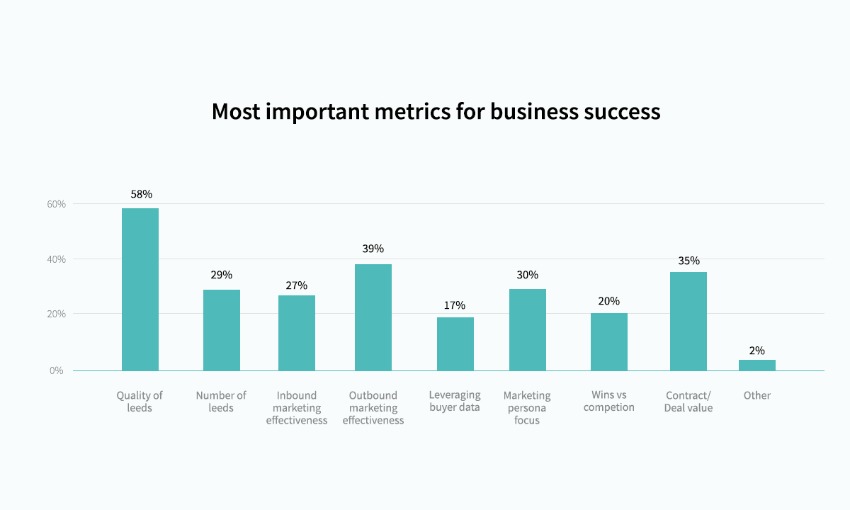 Lead generation marketing strategies:
Now let's go through the most effective marketing strategies.
SEO and PPC
SEO and Pay-per-click advertising are particularly useful when it comes to marketing lead generation. As PPC relies on SEO, it clearly understands people's preferences, which allows it to convey information to a targeted audience.
However, the effectiveness of this approach depends on good SEO for eCommerce business knowledge, as using the right keywords and URLs. Moreover, the usual cornerstone is your budget abilities because the right PPC for e-commerce business campaigns costs appropriately. But in any case, this strategy will bring you ROI increase and leads.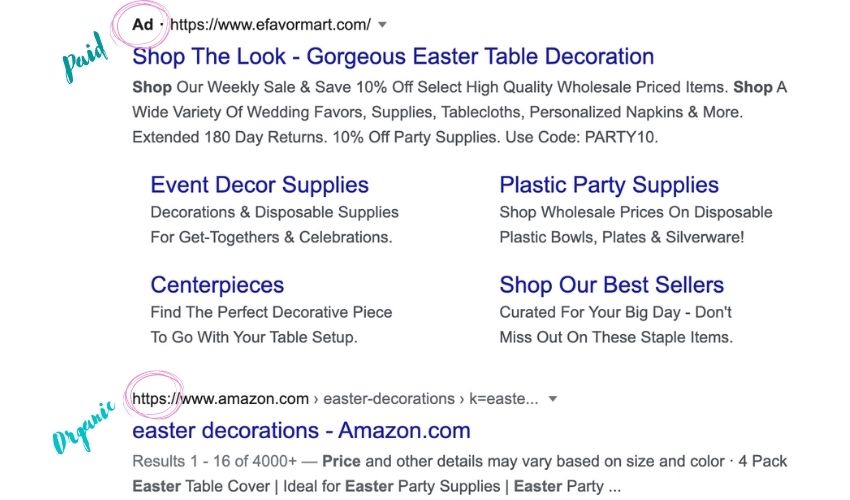 Content Marketing
1. Create tutorials
There are plenty of opportunities here: from educating customers and proving your credibility to targeted lead generation. Produce not only excellent copy but podcasts, videos, ebooks, templates. High-quality data is always great in attracting leads, specifically now, when information is the most valued thing. Just pay attention that this aspect requires strategic thinking and planning because it will take some time, to sum up, all content to look organically together.
2. Host a webinar
A webinar is a superb idea to show your knowledge and create hype around your brand. Also, you can co-host it with some other companies and invite experts in your branch. As a rule, these experts and companies already have their audiences, so that such events will bring more new leads. This strategy is very advantageous for both: you and invited experts, so in the end, all the data provided in a webinar can be transformed into an article and be targeted in your blog and website.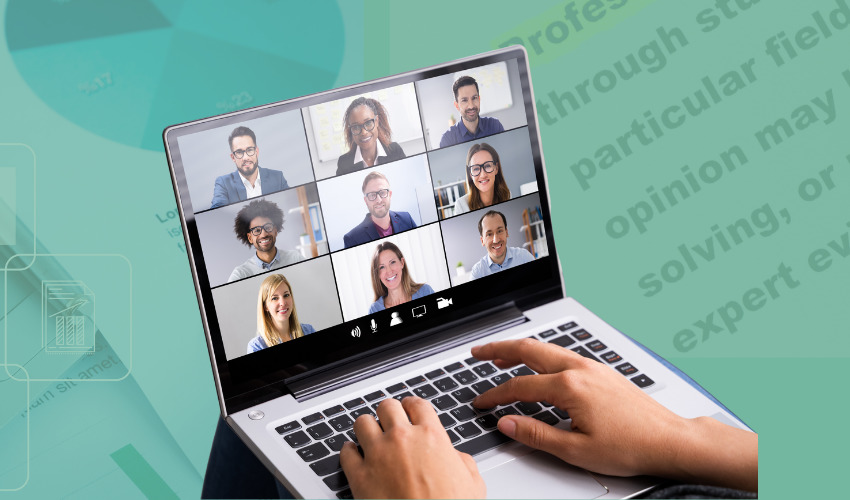 3. Utilize locked content
Locked or gated content is data on your website, which is not in public access and to receive it you should fill in a form or register. On the one hand, only really interested and potential customers will operate with key data and on the other hand, it will stir up the interest of unregistered users. Limited access is a powerful tool and a lead generator. Also, it is an effective way to collect evidence and use it, for example, for newsletters.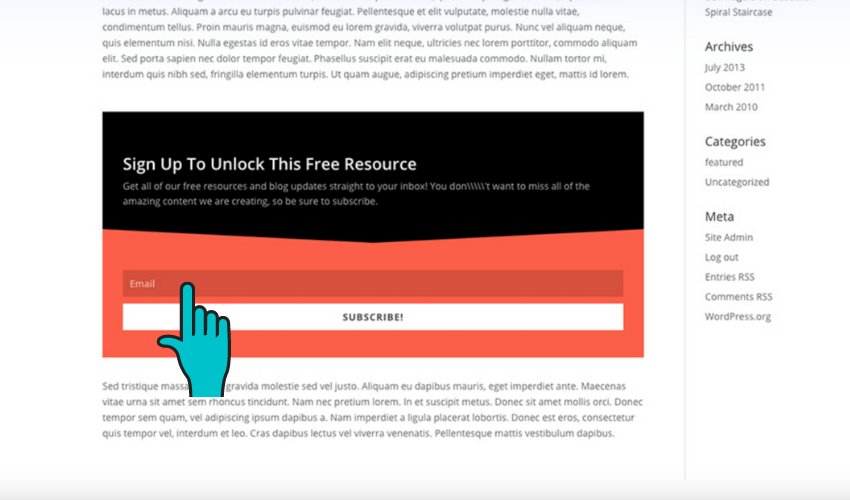 Social Approvement
1. Allocate your client's opinions
When it comes to B2B lead generation, satisfied client reviews show your success in the field. It is a sign for other brands that they can rely on your goods and then, once more, recommend you.
The same scheme can be helpful for B2C, as clients usually rely on testimonials published by others. Moreover, it is practical while Google displays reviews on search engines. The other thing which you can do is to create a kind of statistics, in which you can show the progress of the clients, who are using your product.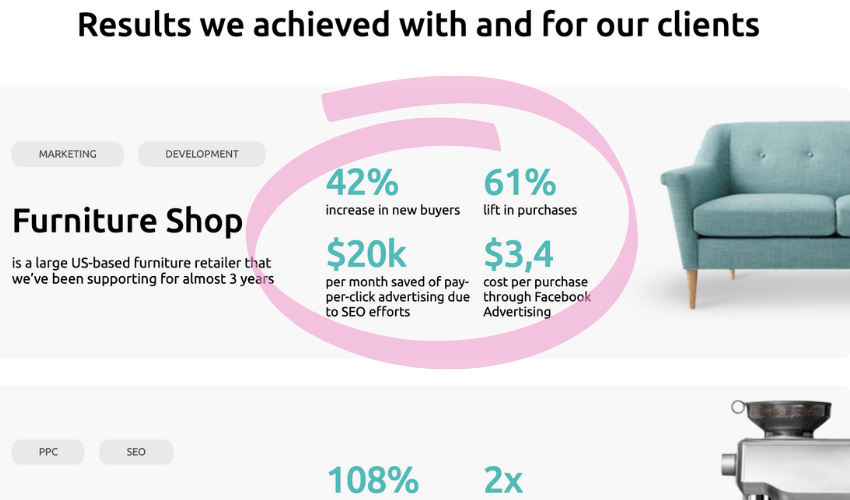 2. Social Share
Social share is an analog of word-of-mouth spread. What you are doing is giving your clients a little bit of motivation to talk about you. There are two options: you can produce content, which is so good, that it goes viral and makes people repost it or you can do a lure.
The best is to combine both of them. A lure is an offer from your company that clients will receive if they will share your post or leave a comment, mentioning their friends and relatives. This way, old customers are satisfied by receiving a discount, and you receive many new leads.
3. Giveaway
This is one of the best lead generation strategies today. Big social media influencers actively promote it because of huge traffic growth. It works a bit similar to social share but gives twice more income.
Usually, when you arrange a giveaway, you personally become a sponsor of it and involve some other partner companies. It's important to remember that number of leads here directly depends on how much you are ready to invest - "give for free". Anyway, it is a great solution to the "How to get free leads and make a buzz?" question.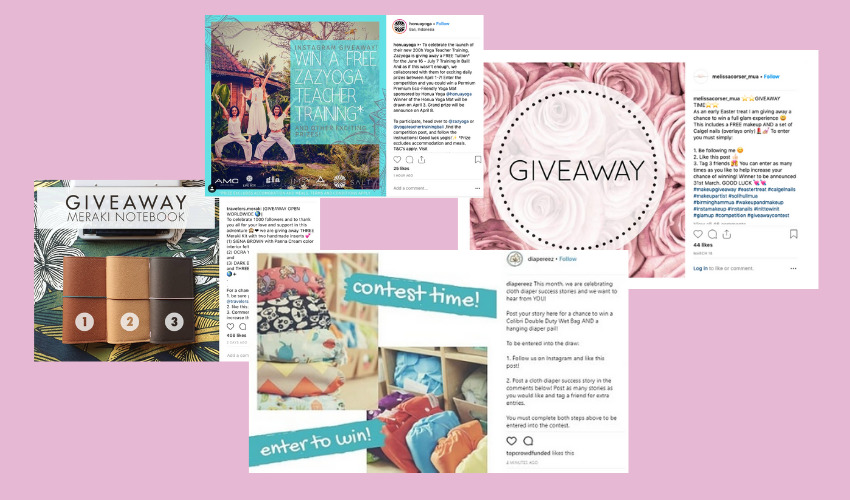 Sharing for free
1. Free Trial Access
Giving tips and strategies for free is not bad, but what about actually giving free trial access? It is an opportunity for old clients to test an updated version of the product and for the new ones to see your goods in action.
Also, here you can add free checklists and templates. When customers discern the effectiveness of them, it will be one more reason for them to pay and share their pleasant experience.
2. FOMO
FOMO or fear of missing out is a strong online marketing lead generation tool. It is a card which you can play almost everywhere. Just put a countdown on your webpage or tell about last chances before closing access on social media.
But be careful and don't full customers. Utilize it only when the product runs out of stock or if there are really last hours of discount. If clients will notice a countdown after a purchase, it can damage your reputation and spread a negative rumor.
Email Refreshment
1. Improve Writing Skills
Email lead generation is a cornerstone of the whole lead generation in the business. The problem is that people don't like unnecessary information and the chances to become just the other spam, in their eyes, are too big.
And this is the other reason to breathe a new life into cold, strict emails. So, don't be afraid to stand out and write something positive with a piece of humor. Also, it is a good idea to include some animation.
2. Publish Email Survey
"What are leads in business?" To answer this question, you have to understand your customers better and a considerable way to do so is to make a survey. It is very convenient to gather the data in one place and also it is simple in filling in.
Promote your survey via social media or you can send it as a newsletter to customers, so they can express their opinion about the quality of service. Besides, you can stimulate clients to pass the survey, by promising discounts or free access, in return.
3. Send An Email Course Of Action
Another approach in motivating sales lead generators is to invent an email course. Take the most useful tips from your previous articles or posts and make a shot and easy-understandable list. Then ask people to sign up in order to receive it. Also, a good idea is to just send it as a newsletter to remind clients about yourself.
Best lead gen tools for eCommerce:
Above we have discussed the best working strategies to raise your conversions. But the thing is that all won't run without the right lead capture software and lead generation platform. So, now we will make you a brief "run-through" of the most high-ranking growth tools.
1. Google Ads
The first one and the most approved tool for PPC strategy. Google Ads displays the sponsored results as first seen ads, while you are searching for something with a particular keyword. With help of Google Ads, you can target the audience only preferred by you and effortless navigation will assist in CPC (cost-per-click) dealing.
2. Visual.ly
Visual.ly is a content marketing service, which works with freelancers and aids in creating visual content. They are brilliant at producing videos, infographics, and ebooks. This platform is not the first year at the market so that you can be sure of their competence.
3. Buzzsumo
Buzzsumo is an online lead generation tool specializing in defining the most popular content, relying on keywords and URLs. It is an excellent research instrument, particularly when it comes to filtering out and assorting information by special categories like time, subject matter and format, etc.
4. EverWebinar
EverWebinar platform allows you to install it and forget about traffic problems. All you have to do is to save a webinar and this tool will display it every time for the new visitors like in a live regime. Plus, there are many features, which you can add to create an atmosphere of real-time, like comments or even a countdown.
5. Leadpages
Leadpages is a landing page builder, necessary for everyone who's struggling to realize, how to start a lead generation business. Leadpages help in creating a landing page from zero and has many templates for every kind of company. A huge plus is that you can integrate your page with Facebook ads.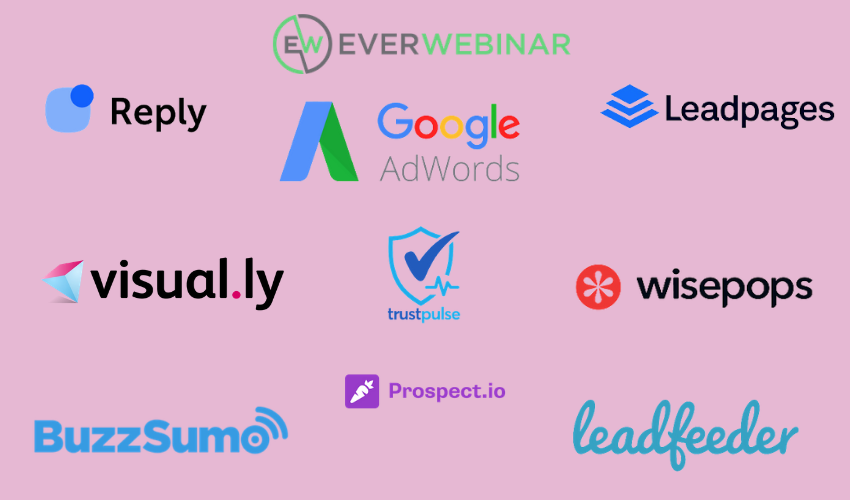 6. Wisepops
When we talk about pop-ups, Wisepops definitely a wise choice. This Ecommerce tool assists in designing floating bars, mobile-only pop-ups, full-screen pop-ups, etc. They are not new players on the market, so you can count on them in trouble-free, organic consolidation and quality.
7. Leadfeeder
Leadfeeder is a data collection platform that displays all the prospects and companies who attended your website. You can understand your potential customers better by knowing which pages they've visited, which websites they've attended before coming to you, and even their contact information.
8. TrustPulse
TrustPulse is a unique FOMO tool, which is genius in stimulating a rush within leads. Its best quality is that it originates little pop-ups, saying to visitors how other customers are going around with your website in real-time. You can set up these notifications in any way you wish and just observe the traffic growth.
9. Overloop
Overloop is an automation platform, which deals with combining calls, emails, and tasks. It builds an omnichannel approach in one system and keeps an eye on your sales. In addition, Overloop can initiate a list of tasks for every day.
10. Reply.io
This tool has merit and a personalized email and text approach. Reply.io classifies all the incoming messages, including LinkedIn proposals and Wat's Up texts. The best thing here is that you can automate or make manual settings and diverse your responses, sending not only cold emails.
Final thoughts
As you can see, there are many strategies and tools using which you can generate leads. Your aim just to identify which one suits you the best. With the help of suitable instruments, you will boost traffic but, if you want to attract leads, you need to experiment and renovate your game plan every time.