How to Optimize Category Pages for Ecommerce
Contents: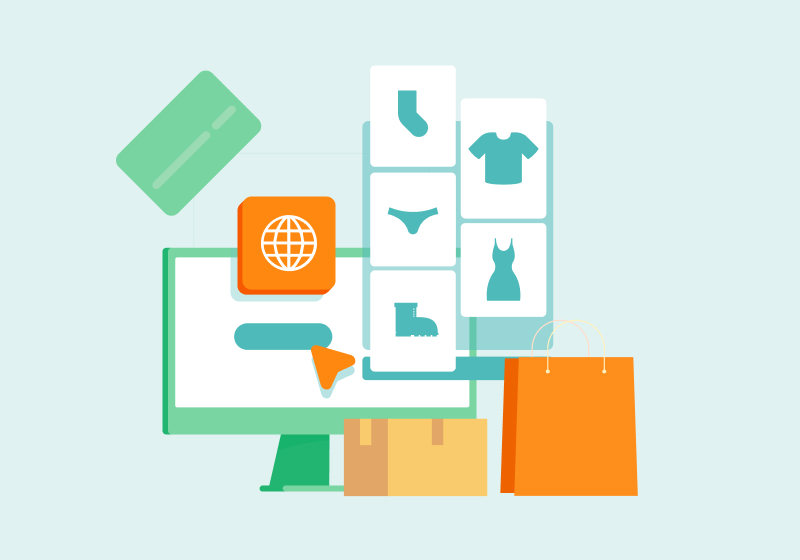 Let's assume you have just built a new website. You have been fulfilling it with content, photos, relevant keywords for hours, and now you are expecting a high ranking position and consequently plenty of traffic. Probably, you worked like that for some time, but then you understand that you are still not among the top and not even in the middle. So, what is the problem, and what makes the difference between your competitor's high-ranking website and yours? Here our eCommerce SEO specialists tell you how to optimize category pages and become a pro in product category marketing.
Why should you create new category pages?
To begin with, it is necessary to understand that category pages are a part of a strict hierarchy of pages which becomes a basis for any successful website. The better it is structured and filled with relevant metatags, the more chances that users will evaluate the simpleness of research, so for Google, it will be much easier to recognize the data.
At this decision-making stage, the main point is to analyze where you are now and your weak spots objectively.
Frankly speaking, you have to do some examination and keep your hand on the pulse every time to control your performance and new keyword appearance and its adaptation on the website. At the same time, don't create category pages just for quantity. Remember that it is pertinent keyword research by categories and competitor analysis that wins the battle. A great alternative to promiscuity must be a clear purpose. For instance, if you launch a new product line or do the platform change, restructuration, and new category pages building, in these cases, it is a good idea.
So, finally, how to do the relevant research and pay attention to which steps will bring you the best results? You will find out below.
SEO guideline tips for optimizing your webpages
Revise your meta tags
It doesn't matter which keyword tools you are utilizing, but it does matter how you do it and how often. New highly-researched combinations appear every day, and it's just another opportunity to create SEO pages on your website. Also, the most right thing will be to keep up with already existing keywords and descriptions and then relying on them to define the new ones.
For example, this Reebok meta description contains not just a set of words. Still, it delivers useful information and some main keywords and a short CTA.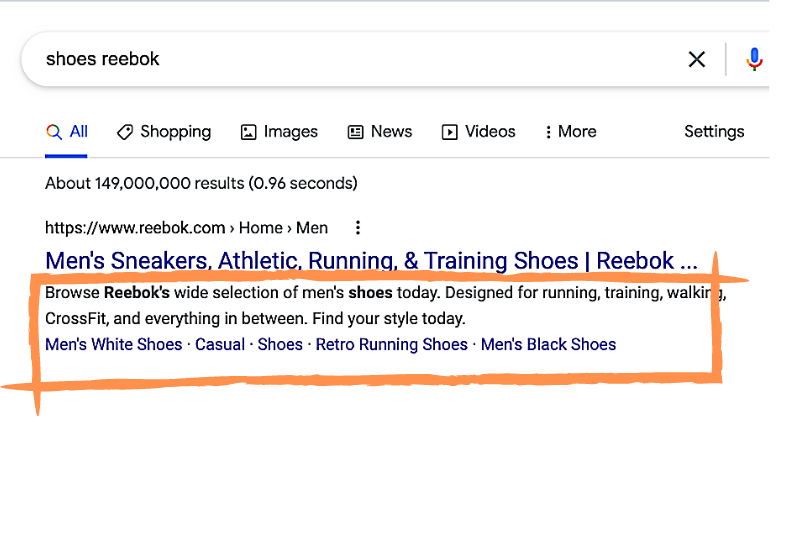 On the contrary, the total lack of description or just irrelevant words from your website in it leads only to customers, who ignore the page without sane description and non-display in rankings.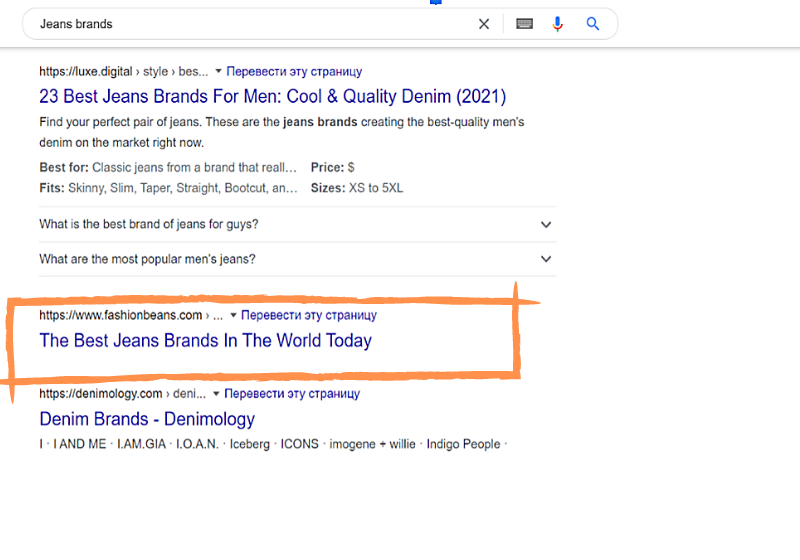 A good meta description shouldn't come only with your website's main pages but with every page.
Let category navigation work for you
Suppose you still think that category navigation exists barely as a sort of sign to your clients on the map of your website. Yes, you are right, but to a certain extent. This way you underestimate category possibilities. You will be surprised, but good category navigation directly influences all of the pages linked or providing authority. Apart from that, it can be a perfect place to put your eCommerce keywords in.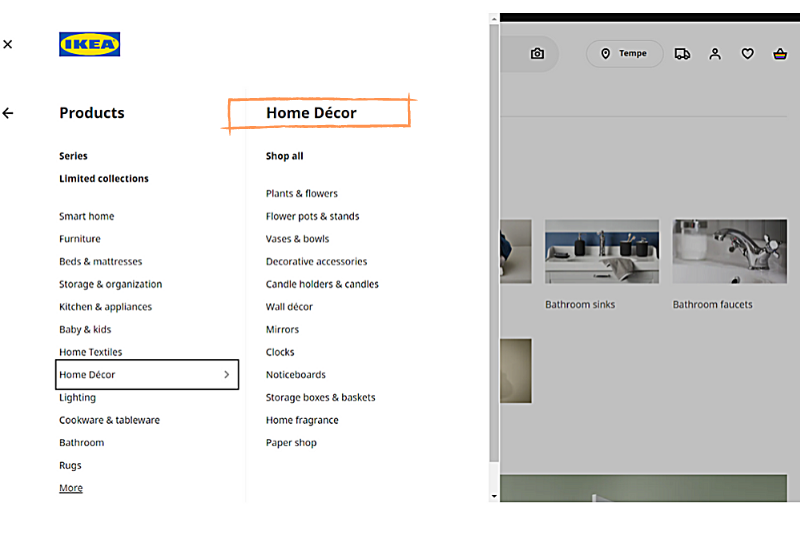 This way, as you can see in this Ikea example, the Home Decor page has a relevant keyword phrase, at the same time, every subcategory under its authority contains it. That means chances to be seen in Google increase, already, by three times. Just build some eCommerce categories and make them do their job.
Highlight the important parts
This advice may sound obvious, but category H1, H2, etc, tags really do the thing. Headings actually serve as almost the way metadata does. They contribute to search engines' content analysis on a more specific level, for showing the different themes. Normally, all the headings and subheadings contain particular keywords and, as a rule, H1 is the title of the whole page.
These Amazon tags will be a great example. As you can see, Kitchen and Bath Fixtures comes here as the H2 category and is a part of the global Tools and Home Improvement H1 category.
At once, Kitchen and Bath Fixtures get linked with some other, more specific subcategories. Also, Amazon, as usual, has done considerable keyword work, as they use not just Home Tools like probably many would have done, but comprehensive and recognizable for search engines.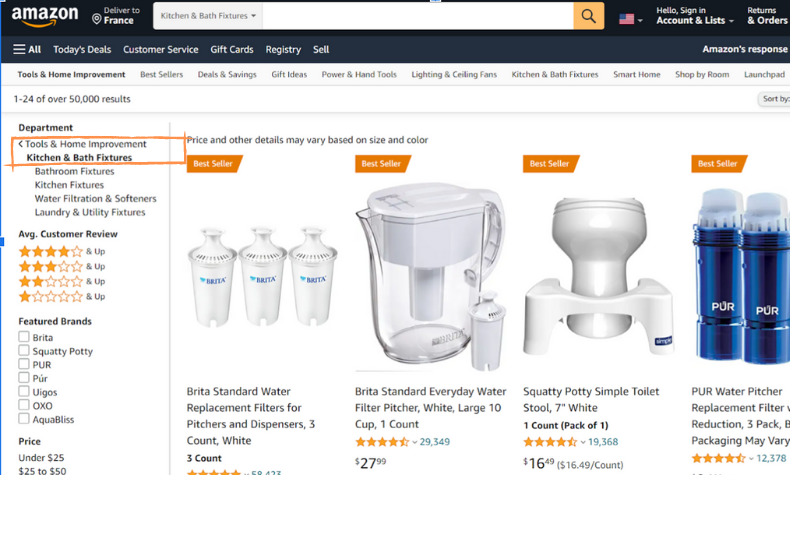 Improve copy quality
When it comes to text, especially, in online stores, it becomes one of the most dominant aspects in terms of search optimization. The best thing about it is that the product description is no more just a full of relevant keywords piece, but a powerful marketing tool.
On this Cartier screen above, keyphrases are organically mixed with explanatory copy, which is short enough to be read and noticed by Google. This way, the website provides not only visual information but teaches clients where their products are best to use and gives them a reason to buy a necklace.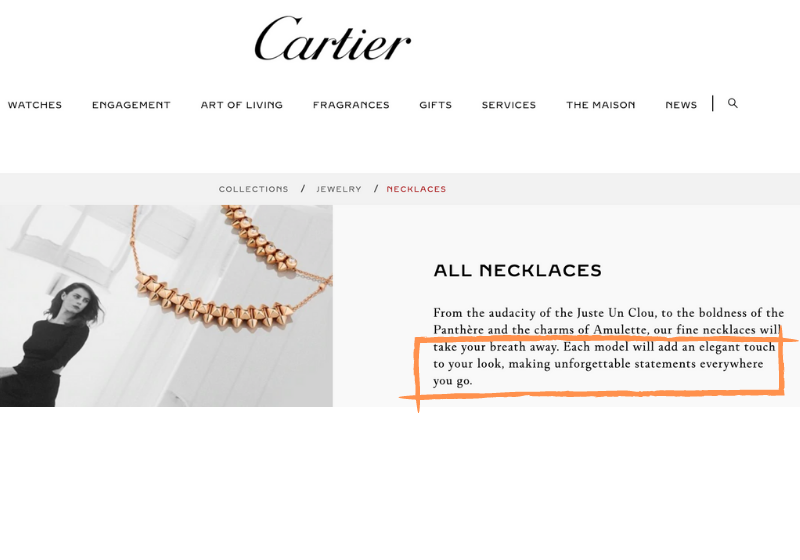 Make sure your content is logically linked
Your main goal in structuring categories of search engines is to make your website function as one highly involved system. Therefore, you should link all of the website's sections, leaving no chance for Google and customers to ignore you. Use all the page space and put many relevant links in one place, hence given all the practical data about the theme to the customers and increasing your page's authority.
Just look how successfully Cartier, in the beginning, gives a choice between women's and man's bands (most likely that is what customers were searching for, from the start), and then, smoothly, gives a link to all engagement rings. This example illustrates how psychological triggers work. In addition, they provide a Be inspired section, which is connected with articles about Cartier diamonds and standards, and all of that on one page!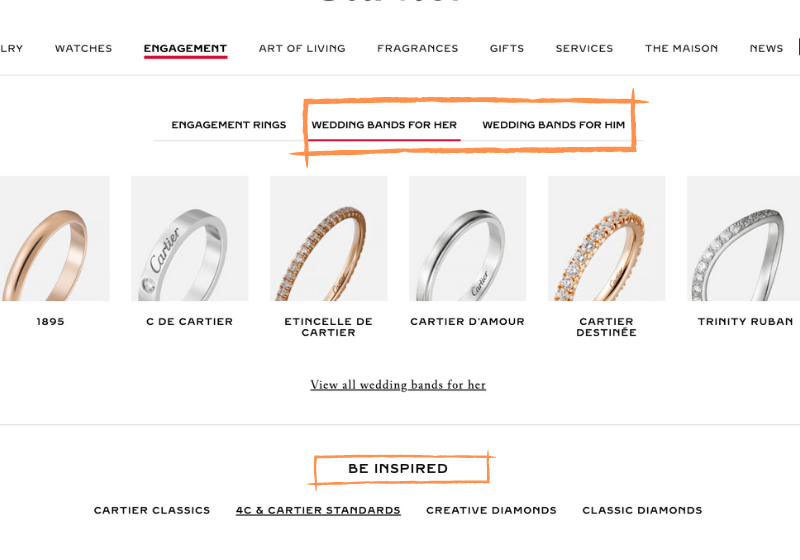 Things to consider while creating category pages
So, we've touched upon the most significant optimization processes, but still, there are some cornerstones that should be contemplated and things to which you should pay attention.
Quality score
A quality score is something that you should analyze all the time because it directly displays how good your performance is. It is based on PPC ads, which are usually a part of every page on your website until you are utilizing keywords.
Quality Score is a measurement of your keyword's effectiveness. It is also one of the key indicators of how good information provided correlates with what people are looking for. If your quality score is still low, it's time to think about the new targeting phrases and even remarketing.
Crawl budget
First of all, it is necessary to mention that the crawl budget, most often, pops up as a problem for really big eCommerce websites. That means, for example, if you add many new pages at once (when we say many, we mean like 10K+), there are chances that Google won't index all of them. And that will definitely lead to a quality score decreasing.
An effective decision to prevent it is to enhance the page's downloading speed, simplify the website's architecture, and encourage more internal and external links. More about the last one below.
Internal links
The internal links are the other problem that should be closely monitored all the time. While creating new pages, old links could malfunction, be damaged, and link to the wrong pages.
This can conduct to chaos inside the website and a drop in Google ratings. So, assure that every page is linked and as a tip, try to give more backlinks to the main pages.
Keyword absorption
And this last but not least paragraph is about moderation. We have already mentioned a quality copy, not overloaded with keywords. But here we will talk about a very common problem, as burden titles and tags. Most often beginners tend to think, that if they'll put all the possible options of keyword combinations in one line, it will be more effective.
In reality, it confuses Google with too many phrases, and, in the end, search engines are only targeting the same keywords, for similar websites. The solution here is professional relevant keyword adaptation and research.
Conclusion
As a flat site architecture always has been a base for any successful SEO performance, you just can't forget or underestimate category pages. They make up the main part of the site, and being noticed by search engine systems, attracts traffic and customers.
Still, as with every SEO branch, the clue to the first Google positions is in being first in noticing the new trends, analyzing your competitor's actions, and, of course, updating keywords.