Checklist for writing a product description
Contents:
The importance of e-Commerce product description
Statistically, about 20% of clients resign from buying due to the absence of a clear product description. Didn't expect such stats? But content marketing service is all about it. If you are reading this article, you probably already know that what exactly is written as a short product description matters. 
Your product description writer or you personally must have already dealt with the notion that perfectly matching words can increase sales, and at the same time, just typical constatation of facts can bring them down.
Nevermind, if you are still wondering about the importance of the description of the product, here are some more stats:
40% of young people aged from 20 to 30 years old now are mostly determined by splendid product or service description while choosing.
50% of returning online were made because of unmatching the article and its description.
Product descriptions (76%), assessment (71%), and photos (66%) are the most wanted kinds of data that are searched by consumers while shopping online.
So, a product description is a template utilized for the better clarification of the item's merit to the potential customers. To initiate a sale, your product description has to be comprehensive and lighten the best sides. Spell out the functions of the product and give a reason to buy it. Also, if you are not really fluent in setting down some words, a freelance product description writer is a nice alternative, but you have to know how to deal with the most common mistakes, even in that case.
The best way to understand is to take these Nike leggings as an example.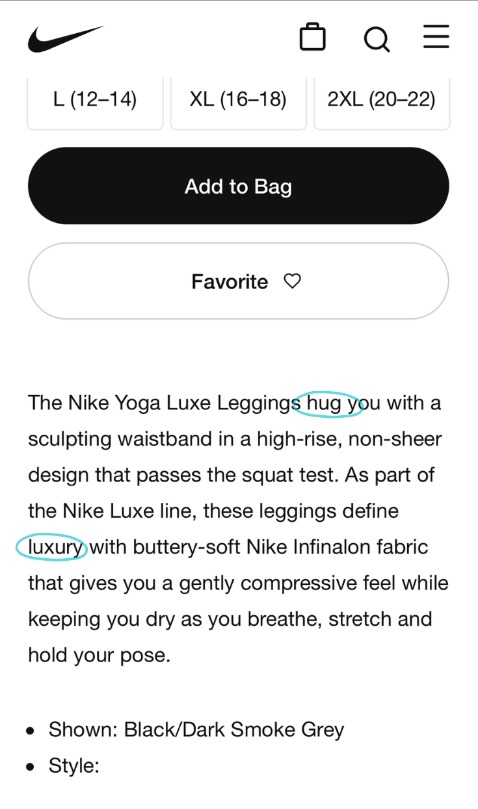 From first sight, there is nothing special in a description like this, because normally people will just look at the photo and decide whether they like leggings or not. That's the first biggest mistake. This description makes much more; it finally persuades customers to buy leggings, creating a special atmosphere with words like "hug", "buttery-soft" and "luxury". While reading the explanation, you receive an impression not just of "buying leggings" but being a part of "luxury Nike society". In a case like that, a good product description it's all about touching customers' emotions.
Apart from that, it's important to consider the significance of SEO product description and demand for clear steps in writing. WiserBrand experts prepared a hot checklist with all the necessary information.
1. Know your customers
The first step for an Ecommerce product description writer is to understand who your clients are. Starting from this, you will be able to answer other not less important questions, like:
How can your product solve customers' problems?
What makes this product unique?
What are the main evaluations of your buyers?
As a product description example, we can take a quick look at this Dyson Gift Set at Sephora's shop.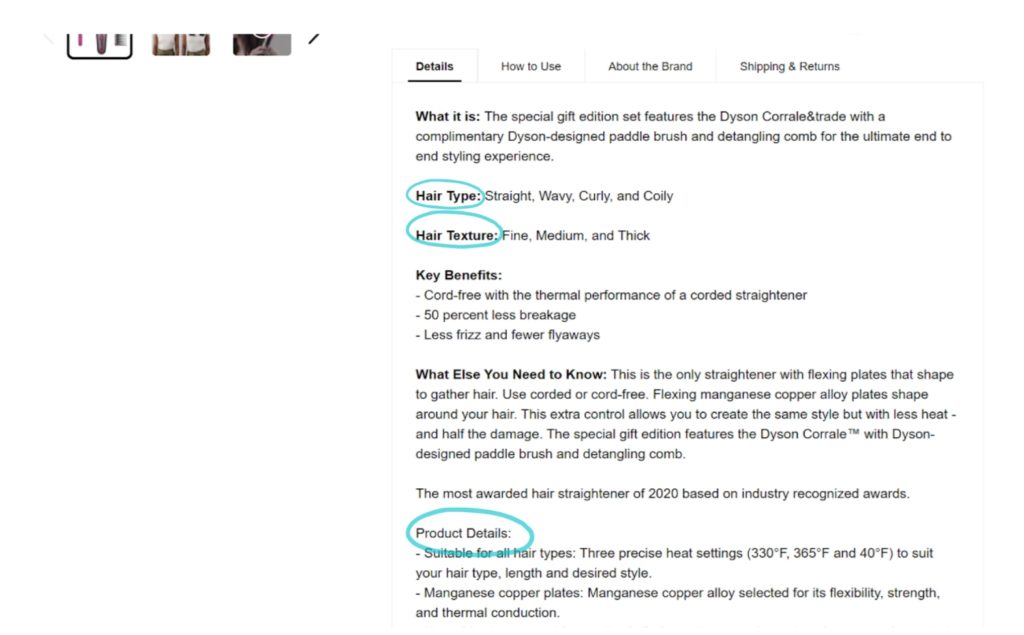 Here we can see an excellent work of product description service. From this description, you can easily understand that the product is for people who have straight, wavy, or curly hair and also for those who have a special hair structure. It tells us the key benefits and provides additional details about the set. Also, it contains "How to use" data.
2. Give "them" a reason
So, what is the product detail description? It is a set of reasons why your client should buy your item and not choose your opponent's one. A product attribute is just an explanation of evident characteristics, while a product advantage shows how this commodity can change your buyer's life for the better. Let's take this Instax on Amazon as an example of the product description.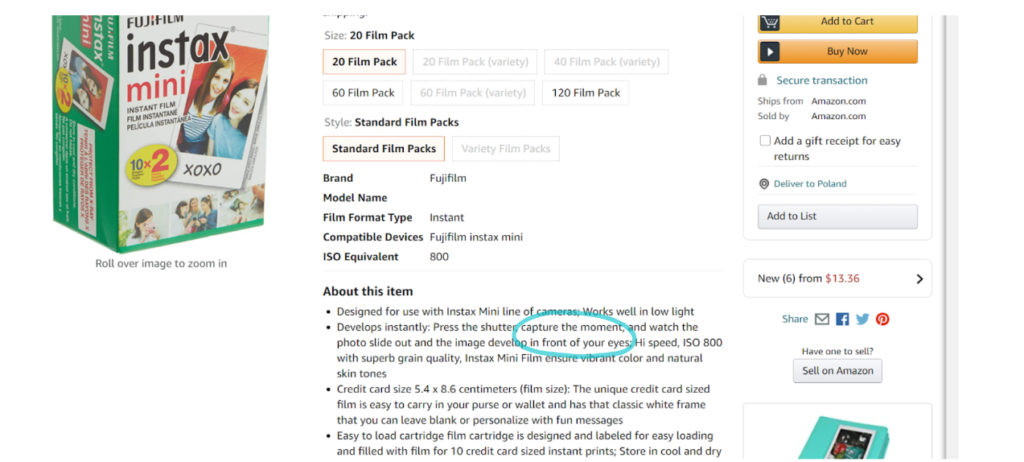 Obviously, besides giving standard information, Amazon's product meta description also reveals what you will get. "Capture the moment, and watch the photo slide out … in front of your eyes" - Amazon has an excellent product description writing service. You can also see at the bottom the "Compare with similar items" line, which gives a possibility to compare and choose.
One of the common mistakes in this part is when the product description does not match an item. Don't embellish, but at the same time, do not underestimate the product. Be honest and show the best sides.
3. Be a narrator
And now, how to get people to read a product description? The key is to transform your potential clients into real ones, just by telling a mini-story. It is clear that emotions affect people's behavior, so your main task is to touch feelings. Clients would like to understand that you are not just selling a product to make money on them, but you have also put a part of a soul in it. If your item has an interesting and unique backstory, customers feel like being inside it while just reading a description. Appeal to your buyer's imagination, and a typical product description template will become a powerful marketing tool. Just look at this Etsy backpack.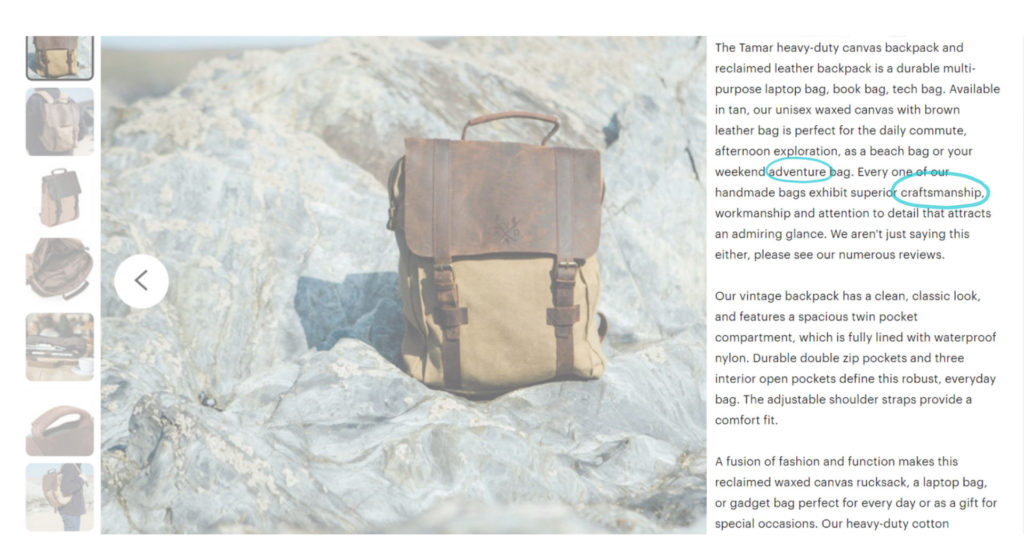 Instead of just telling "You can take this backpack with you to the beach", a product description copywriter creates an emotion of spending a happy, adventurous weekend or day out, on the beach, with your friends, in your imagination.
Frase like "Available in tan, our unisex waxed canvas with the brown leather bag is perfect for the daily commute, afternoon exploration, as a beach bag or your weekend adventure bag", contains features and direct description. At the same time, it is skillfully combined with your weekend memories. It is easy to imagine yourself with this backpack. Also, "Every one of our handmade bags exhibits superior craftsmanship' shows the special approach and love for their own product.
4. Use authentic language
One important thing that you have to embed in your product description marketing plan is your company's authentic tone of voice. First of all, you have to answer a question from above 'Who are your customers?'. This will help you to understand which kind of conversation you would like to build. It will depend on the whole company's appearance and how you want to present yourself to the customers. Is your sample product description going to be casually sweet or strictly professional?
So, as a sample of a free and high converting product description, let's use this one by Microsoft Office.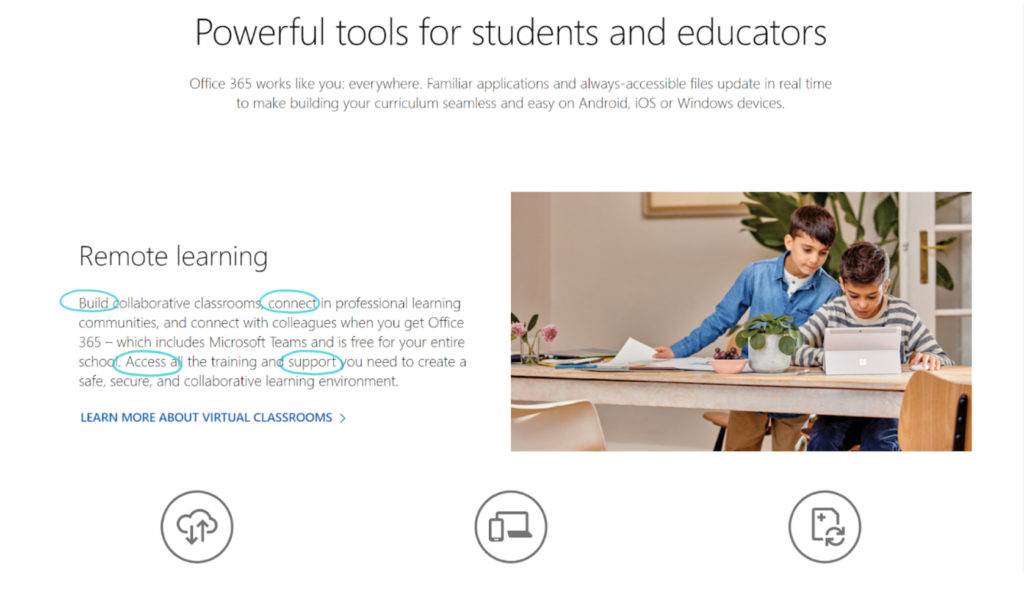 Microsoft's tone of voice is the most popular tone of voice for IT companies. As they provide educational tools for students, they use that friendly-mentoring tone, which is easily juxtaposed with their products.
5. Sell by words
Yes, finally we got to it. Remember, when you were a child, it was so cool believing in magic words, using which you can get whatever you want? We have great news - these words exist, and it is not magic. Buffer.com offers some of the most attractive.
Impressed with the simplicity of words? And these are just some of the most popular. Most likely thinking of how to determine the keywords in the product description and how to write a product description that sells?
Let's see in practice on this Chloe bag.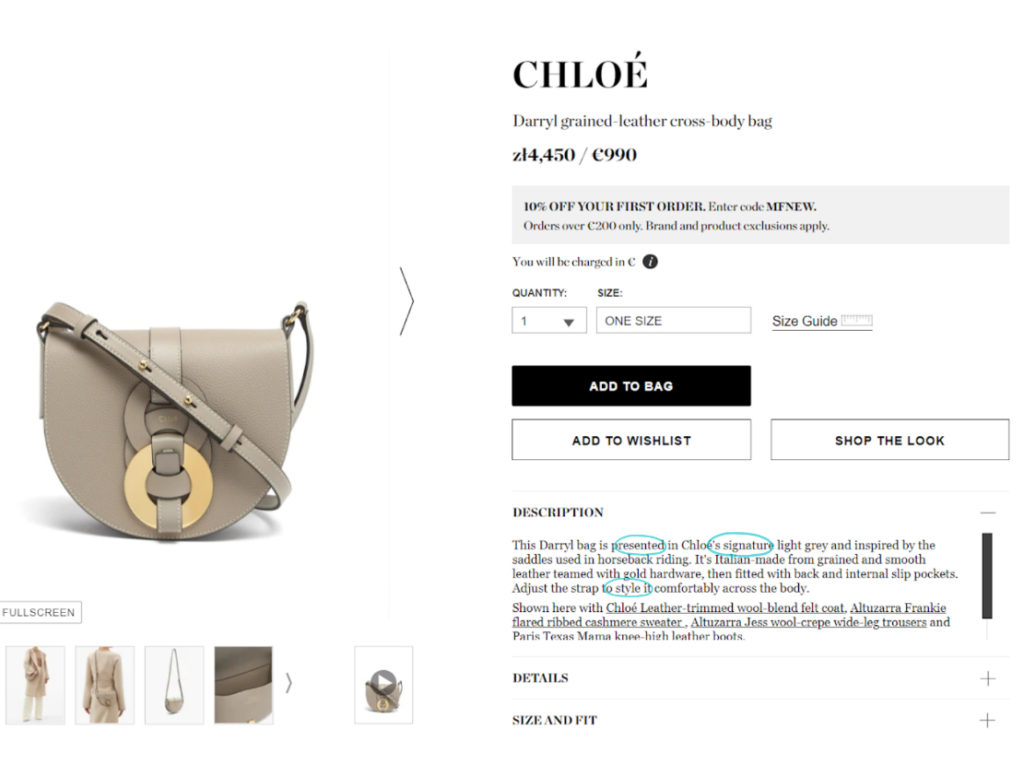 This little and, from-first-sight-nothing-special, product description writing is genius. First of all, the words "This Darryl bag is presented in Chloe's signature" create an atmosphere of something special from the beginning, and it is not because of mentioning Chloe's brand. It is all about powerful words like "presented", "signature", "inspired," and "style".
The second essential thing that product description writers made is that they practically allowed us to touch this bag with our hands. A phrase like "Italian-made from grained and smooth leather" makes us, basically, feel it. And all of this, with just a couple of "magic words". Everything like in the best fairytales.
6. Make it short
Most buyers doing shopping online don't really want to spend hours reading even the best product description examples if they are too long. It doesn't matter how genius it is if it doesn't catch your customers' eye. People want to receive and to see the most important parts of information in the shortest time.
You can easily achieve this by making your description of the product or service scannable. How to write a good product description? Just add some bullet points, use lots of white space and write each paragraph with short sentences. Here we will look at two examples, and first is gonna be the market leader - Apple's iPhone.
Definitely, Apple's product description writing service, is one of the best in the world. These guys know how to make a great presentation. A lot of free space allows you to focus only on necessary information, which, at the same time, reveals all the benefits of the new iPhone model and shows it in the picture.
The next example is less famous, but not less working on customers.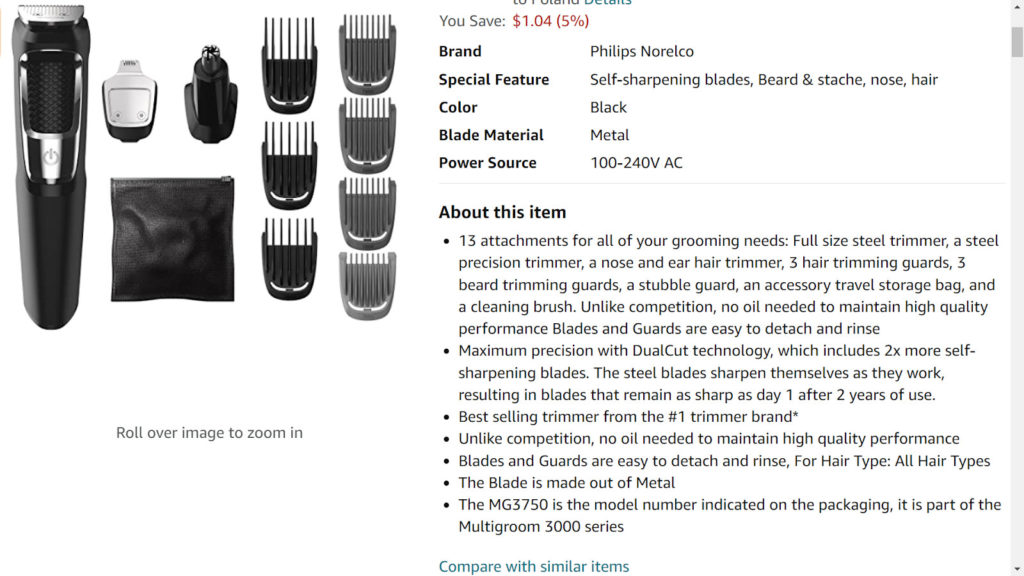 Here you can see a more "casual" variant of making a text scannable. Bullet points make a structure effect, which headlines the key aspects of data.
7. Use search engines
Where does Google get the product description from? Product description Search Engine Optimization is the answer. Upgrading the content for search engines will make it easier for buyers to find your products.
The first step in optimization is investigating the most popular keywords, which clients use for research. All you have to do is to analyze the market of the keywords.
"Men's white long sleeve shirt" can be taken as an example.
As you can see, there are many combinations of words, using which people look for the desired articles. These phrases are at the top of Google's research and optimizing your product category description will help you get higher in the list. Evidently, Ecommerce product description generators have taken all the most researchable expressions and integrated them. For instance, Macy's uses the same engines many times, which allows them to occupy the head positions.
That is why, Shopify, has created a little tally, with the best places to put your keywords, in your online store:
Page titles
Meta descriptions
ALT mentionings
Page's content
8. Be, and seem to be
Next, what makes a compelling product description? Of course, photos. We live in an Instagram era when an image is the most powerful tool to present an item and to show its benefits. As we had said earlier, using a special combination of words, you can sell almost anything, but if you will superpose it with some good quality photos, you will definitely get a super-selling product.
For example, in Adobe's Photoshop product case, eCommerce product description writing can not fully depict the process of image correction, only by words. So, putting a video was the best marketing solution.
At the same time, Adobe still uses influential words and highlights only the most important features. Moreover, many customers claim that they don't even look at the descriptions without images, so sometimes a photo can say more than a hundred words. A brilliant example of an IT company product description for a business plan.
Conclusions
This article's main purpose was to explain what a product description is and how to write a great product category description. This checklist is created based on the most successful online shops and companies whose great examples will help you sell your products. Focus on your item strengths and show the best parts of it. Follow our guide, and "What should my product description look like?" won't be a question for you.