Top-15 PPC Tools for Research, Analysis & Optimization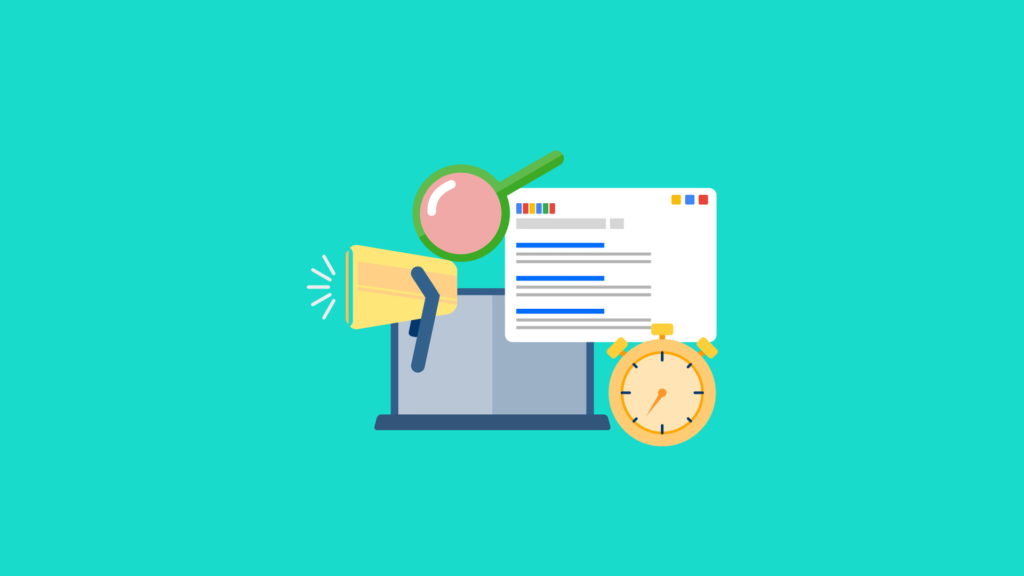 Contents:
As with everything that has to do with the Internet, internet marketing evolves with each passing year at an impressive pace, solidifying its place among the most dynamic practices of the present day. On top of that, no business can expect to avoid internet advertisement if it ever hopes to stay relevant.
One of the latest proven and successful marketing models is pay-per-click, which prompted the topic of our today's article - top PPC tools for your research, analysis, and optimization needs. We've sifted through them all, so you don't have to, and what's even better - made you an accessible list in the process.
What is Pay-Per-Click, And Why Is It So Useful?
The name of this advertising model speaks for itself - you pay only for a visit, or more literally - a click that a user makes. The main goal of such marketing is to get clicks, which means attracting visitors to the desired page.
If a user clicks on the link, it already means they're interested, therefore easier to persuade to make a purchase. Popular hosts for this type of marketing are search engines, social media networks, and other advertising services. Aid also comes from various software called pay-per-click tools.
The concept of paying for performance in marketing is not new. Back in the old days, when companies bought the TV advertisement of their products or services, they paid for the number of times their ads were being shown.
However, you had no idea if all your ads would work, even if you paid for them. Another similar but newer pricing model is called CPM, where you pay for 1000 displays of your offer, which can sometimes lead to untargeted ad displays.
What Can PPC Tools Do?
They help you manage your campaigns, making them more effective while potentially cutting costs in the process. Depending on their purpose, they can aid you in:
Researching and monitoring your competitors;
Automating tedious but essential tasks;
Tracking and finding relevant keywords;
Optimizing campaign performance;
Creating valuable, visually pleasing, and insightful reports.
Advantages of PPC Advertising
There are numerous benefits from using pay-per-click advertising - fast results, accessible customization, the ability to measure the campaign's success, a variety of helpful tools for PPC, as well as:
Cost efficiency - paying only for when a user reaches the ads' destination is an excellent example of an effective price-performance ratio, which allows you to plan your budget accordingly;
A more targeted approach - you can select an audience to which your ads are going to be displayed by filtering location, language, and other measurable socioeconomic factors;
Easier persuasion - most of our potential customers when using search engines are looking for something and are not opposed to ads that are relevant to them.
Disadvantages
Some difficulties come in the form of:
The need to monitor and optimize your campaigns, which takes time and effort;
Still having to convince customers to purchase what you offer;
Skills and practice are necessary to set up a successful campaign - whether they are yours or you need to outsource them.
Our List of Top-15 PPC Tools
Going through a myriad of PPC tools for every requirement a modern advertiser may have, we've managed to single out the 15 best ones that are definitely worth adding to your marketing repertoire.
One of the best PPC optimization tools, Optimizely is a digital marketing software that allows everyone in the marketing and product fields to experiment and test various digital strategies and optimize your campaigns performances. This platform is great for both novices and experienced marketers, plus has a decent variety of performance testing tools.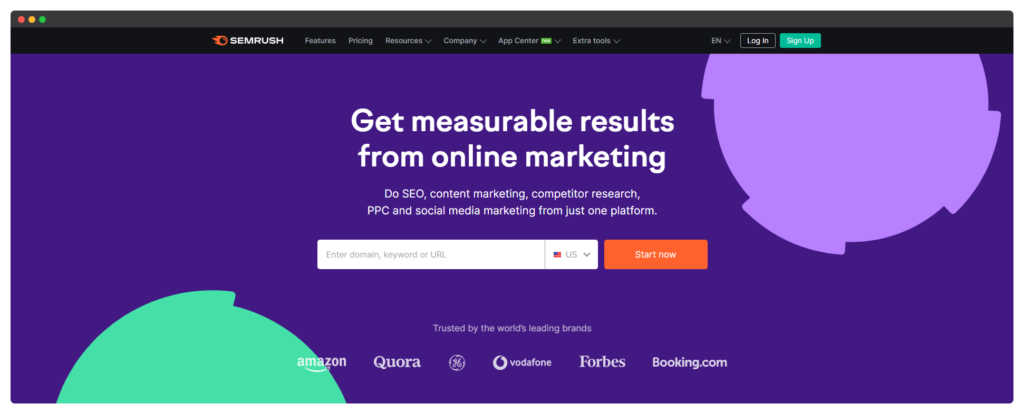 SEMrush is an SEO and online visibility management tool that is also used to collect valuable research data about one's competitors. The platform has quite a few pay-per-click features, such as budget and campaign management, social media monitoring, and keyword tracking, making it one of the most helpful PPC management tools on our list.
Optmyzr helps teams to handle and audit multiple Google Ads accounts with substantial expenses on a single platform by supplying numerous valuable tips regarding format, ads, budget, keywords, reports, etc. Using collected information and relevant patterns, Optmyzr lets marketers avoid spending too much time on boring and time-consuming tasks.
Opteo is one of those PPC marketing tools for AdWords management that allows for automation of various tasks, providing recommendations that are supported by research and account monitoring. Similar to Optmyzr, this tool also provides a few dozen optimization features for PPC, Google Ads, and SEM, with real-time alerting and one-click improvement systems.
This list wouldn't be relevant without including one of the biggest PPC advertising tools - Google Ads and its free counterpart Google Ads Editor. The first one is essential for launching various search and display ads, while the Editor helps you manage your campaigns on multiple accounts at once and make bulk edits and optimizations.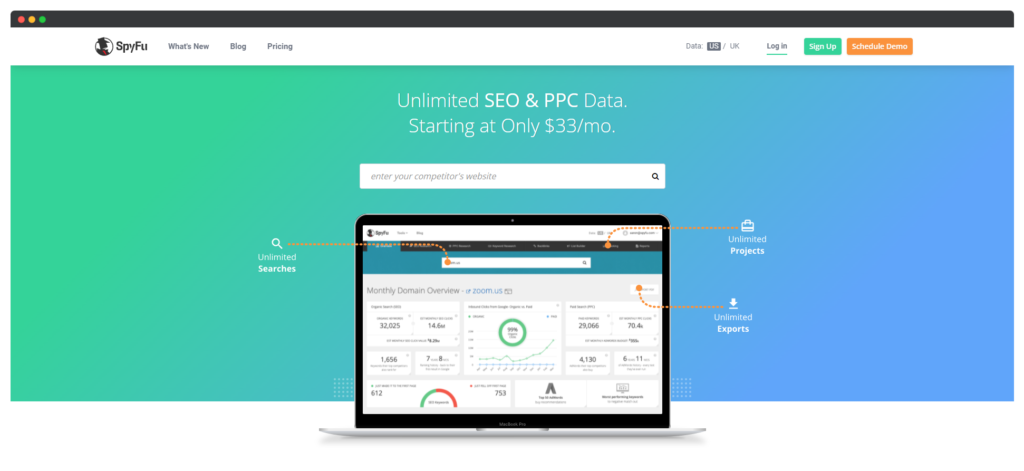 This PPC research tool is on this list because it can help you enhance your campaigns with both usual pay-per-click features (for example, keyword suggestions), as well as other marketing solutions that don't usually have. SpyFu is an excellent addition for when you want to subtly spy on your competitors and use this knowledge to your advantage.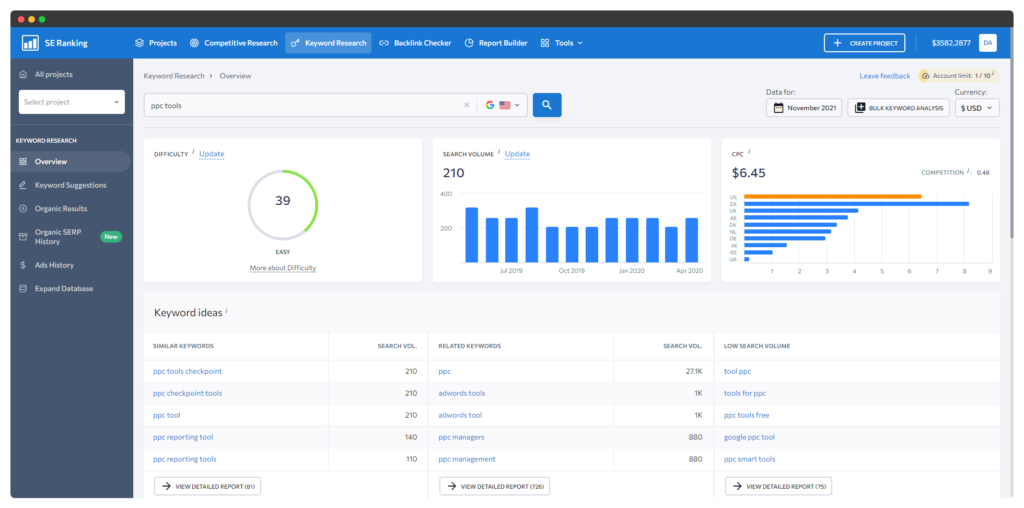 This SEO platform has one of the most helpful PPC research tools, that delivers thorough information about your competitors, their paid ads and keywords, how many clicks they receive per month, as well as their budget. All your checks can be compared with each other, ranked, and analyzed.
This excellent example of PPC analytics tools helps you save tons of time with its scheduled reports, extensive campaign performance analytics, website audit management, numerous channel integrations, and an impressive enterprise marketing dashboard that lets you extract data from multiple networks, which is basically its main feature.
Another Google addition to the PPC analysis tools, Google Analytics, allows you to monitor your website's traffic and performance of your Google Ad campaigns. The platform's structure is clear and logical and lets you sort and see each campaign's acquisition information - clicks, cost, sessions, CPC, etc.
AdEspresso works with Google Ad, Facebook (Meta), and Instagram and helps you manage your campaigns simultaneously across all these platforms with the help of numerous resources. Set up process is very straightforward, and the addition of impressive visuals from a web design solution Canva takes it up a notch.
Another one among PPC tracking tools is Twilio, a cloud communication platform that allows you to track and record numbers and phone calls and manage your texts and emails as well. It's also a great tool for analytics to improve your PPC campaign set-up process.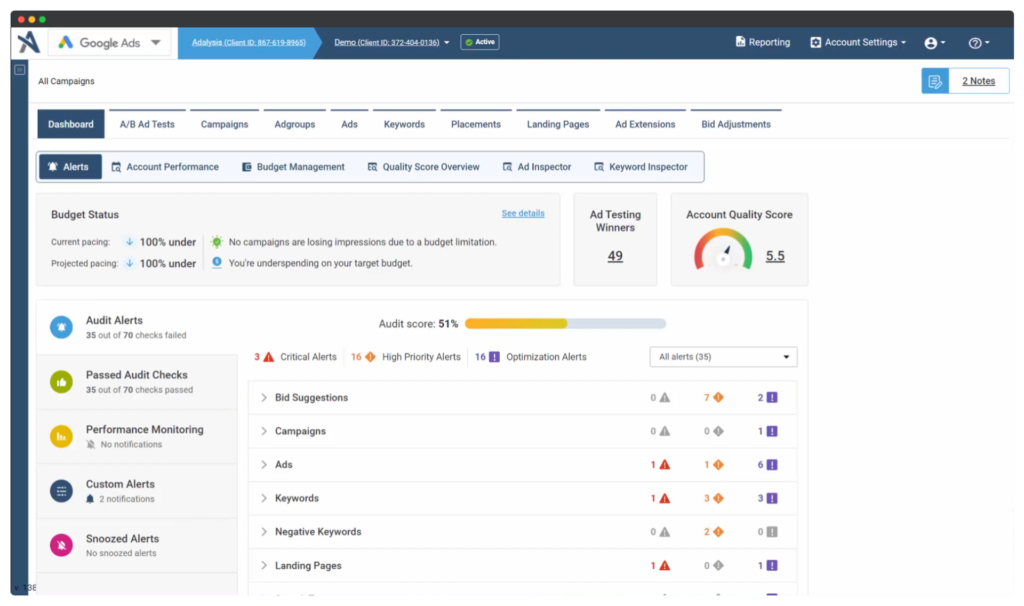 Adalysis is a pay-per-click recommendation solution that works wonders for all your optimization needs, as well as checking and fixing keywords and broken links and receiving insights. With its help, all your ad tests become fully automated, even if there are thousands of them.
This PPC analysis tool is a special solution for your Amazon account and its marketing requirements. Your product campaigns management with the help of PPC Entourage will result in a conversion boost due to the tool's built-in analytics, keyword research, bids optimization, and improvement recommendations.
WordStream Advisor is perfect for active marketers with Google AdWords, Facebook (Meta), and Bing Ads accounts. You get weekly alerts, multiple helpful reports from a single dashboard, as well as paid social campaigns management and online advertising recommendations.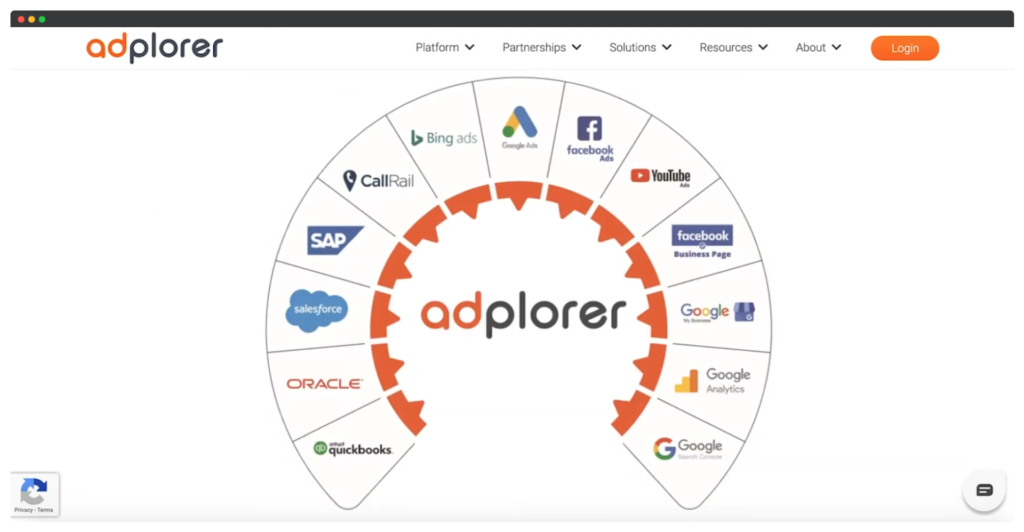 And the last PPC advertising tool on our list is called Adplorer, and it's a staple in pay-per-click management. There's no need to learn the editing interfaces of various platforms anymore - Adplorer has an easy structure for all your channels and is a great addition to your campaigns, no matter if it's your first or a hundredth.
Conclusion
And there you have it! Our team is hoping by now you've chosen a PPC tool or a combination of them that are best suited to meet your marketing needs. Remember, each campaign is unique - test the tools, collect your team's feedback and don't be afraid to switch things up to achieve maximum compatibility.