10 Best Ahrefs Alternatives (Tried & Tested)
Contents:
When it comes to digital marketing analytics tools, the first thing you will probably think about is Ahrefs. It is similar to Apple in the world of mobile phones. If you want to buy something classical, tested, and be sure it has the best value for money, Ahrefs is what you are looking for. However, there is nothing perfect, right? 
Ahrefs is a tool that contains almost all possible features and makes it easier for you to keep track of your competitors, rankings, and backlinks, at the same time. Still, as with any other tool, it is a matter of taste and price. That is why we have prepared a list of the superb Ahrefs alternatives, which can be helpful from various points like the simplified interface or more extended capabilities. 
In any case, in this article, you will find some valuable comparisons and arguments to understand if Ahrefs is worth it and identify the possibilities to avoid overpaying.
This one is probably only a little bit less famous than Ahrefs, but it can be the only full-pack Ahrefs competitor from many users' point of view. Both of them are focused on keyword research, content marketing, and social media. Also, the strong point of SEMrush is its clearly organized statistics base, which gives you an upper hand in market research and competitor analytics.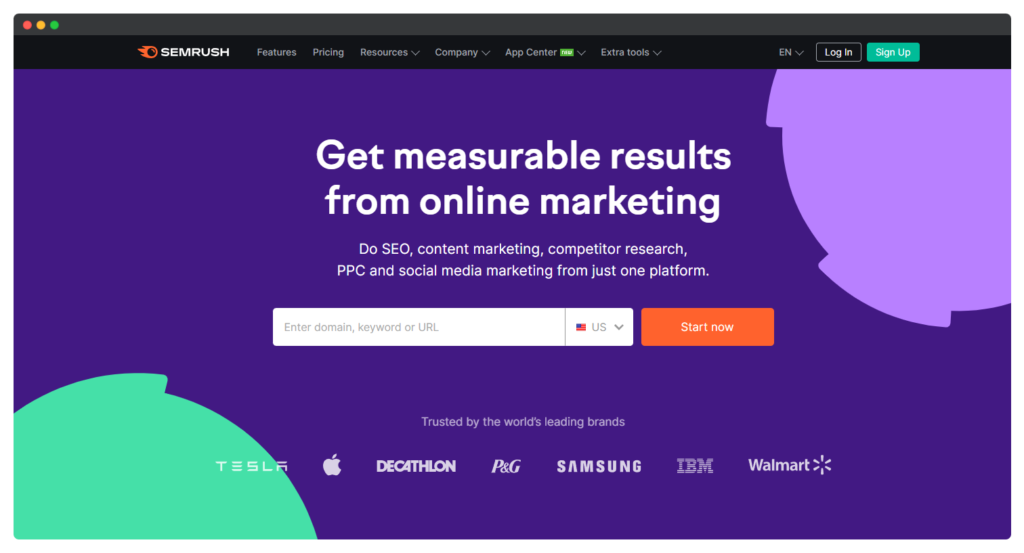 SEMrush's main trick and advantage lie in more equipped pay-per-click options, which extends PPC compared to Ahrefs and gives access to competitors' PPC strategies. While SEMrush's interface differs from Ahrefs, many people tend to consider SEMrush SEO service superior for a local level.
Worth noticing that the price of packages stays at the same level, compared to how much does Ahrefs cost:
Pro version starts from $119.95 per month, while SEMrush provides a 7-days free trial period (credit card required).
Ok, we think, we didn't really surprise you with SEMrush, but what about another Ahrefs alternative. Are there any SEMrush and Ahrefs free alternatives? Well, not completely free, but starting only from $37 a month. SE Ranking is a great tool that can be opposed to these "all-in-one giants", as it is one of the best examples of getting a service worth its price.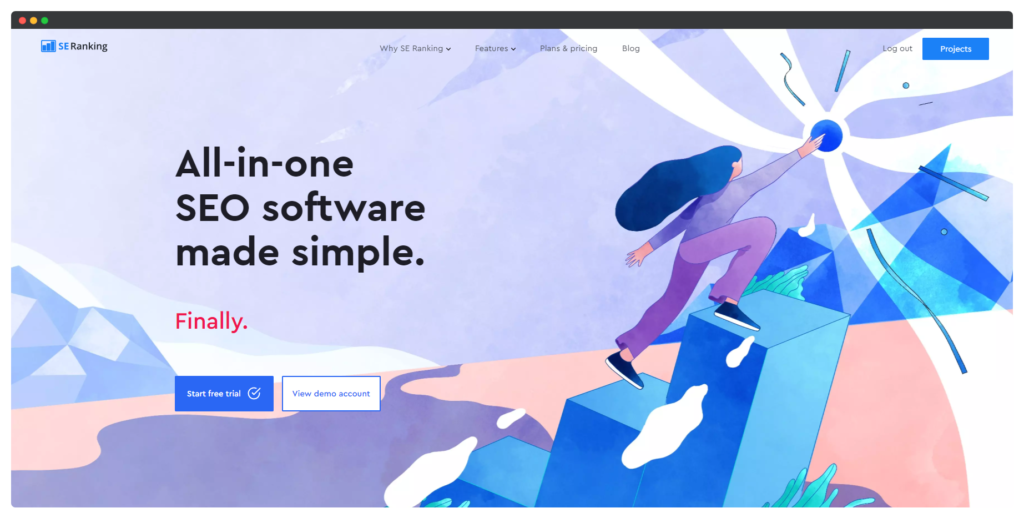 SE Ranking is best to guide small business PPC strategies. You have to know that they provide a limited number of data that you can track, but it is more than enough for a little organization. Besides, SE Ranking still manages the same issues like backlinks checking, surveying keywords, and competitor analytics.
Coming back to the pricing question, it is evident that the more features you are utilizing, the higher fee will be asked. Also, the cool factor is that SE Ranking invites you to try their free version for 14 days long (no credit card required).
Here, we will continue to talk about free Ahrefs alternatives, and now it is Mangools' turn. The best phrase that can describe this tool is "user experience". We are sure that it was exactly when Mangools was created, as you will see from the first minutes of working with it. Mangools is officially recognized as the number one tool for beginners. They captivate with simplicity and clarity of use, so both seniors and newcomers will value it.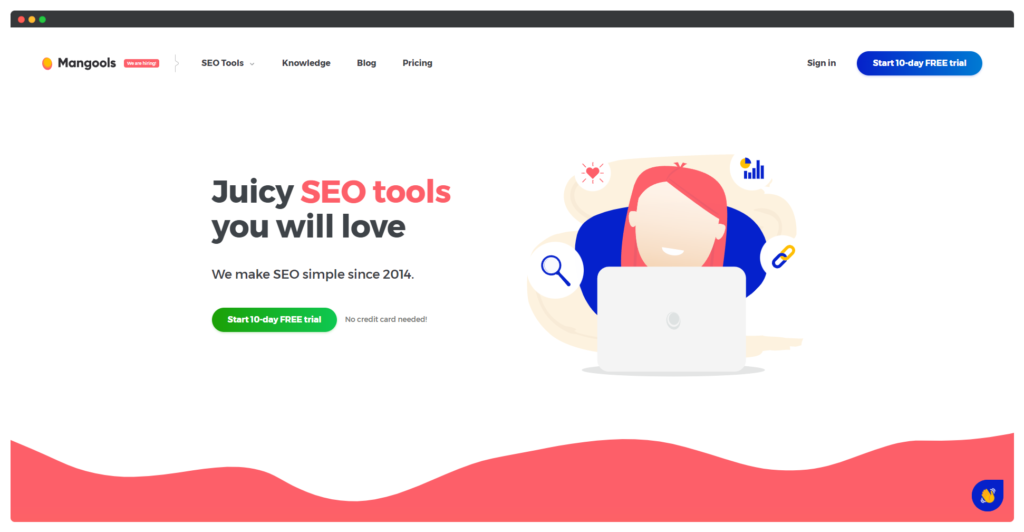 Mangools also has all of the classical Ahrefs functions like keyword research, SERP, and SEO analysis (which sometimes may be even better). Still, once again, as straightforwardness becomes a priority for Mangools, that means you won't find many of the complex features from Ahrefs in it.
In terms of cost per month, Mangools is in the same price category as SE Ranking starting from only $29.90. However, pay attention, it means you have to make an annual subscription. Also, there is a 10-day free trial (no credit card needed).
The next stop of our discussion is Ubersuggest. Beginning from this one, we will talk about the more particularly concentrated tools on one option. Well, Ubersuggest is something that balances between both extremes. What does it mean? From the general point of view, Ubersuggest is just another Ahrefs alternative, as it contains keyword and SEO audit and has a topic research possibility trick. On the other hand, Ubersuggest has a particular slant into keyword research.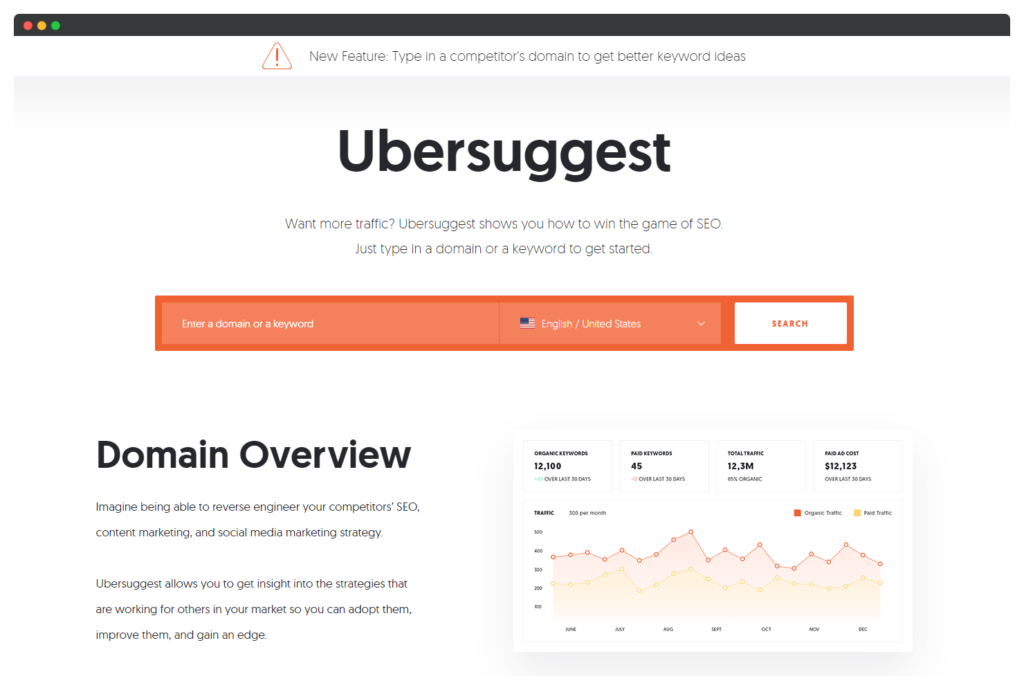 So, basically, if one of your main goals is to find the perfect keywords to build your own strategy, Ubersuggest is here for you. Moreover, it comes up with information about the user's age and juxtaposes the number of clicks on PPC and SEO.
On top of all, Ubersuggest is one of the few sites like Ahrefs, which is working in free mode. Of course, you should understand that this version is quite limited, but the paid plan also starts from $29 per month.
Now, let's take a look at BuzzSumo. To begin with, this site can't be listed among Ahrefs competitors, just because it is something completely different. BuzzSumo is mostly concentrated on your content marketing strategy and its improvement. That means that in BuzzSumo, you won't find many SEO additions, like in Ahrefs, but not because it is a wrong tool, but because SEO is not the main point of interest here.
Instead, BuzzSumo will give you many stats like mention tracking and content tracking with things like engagement and shares. Also, it provides you with the ability to search for influencers who will correspond to the topic of your campaign. Additionally, BuzzSumo is a perfect archive, which can deliver analytics up to five years back.
BuzzSumo can't be related to cheap sites as their less pricey package starts from $99 per month, which is basically the same as Ahrefs. Additionally, there is a 30-day free trial (only need to verify via Facebook or SMS). The trick is in what you are searching for, and if it is content development, BuzzSumo is for you.
We have already mentioned many extraordinary tools vital in SEO and general social media analytics. So, what can Majestic offer to you that other sites can not? In fact, it is an extremely extended system of database and backlinks checkers. But Ahrefs can propose to me all the same things, you will say. And, actually yes and no, at the same time. Majestic focuses on a specific analysis of your backlinks and your competitors, and due to that, it becomes the best in what they do.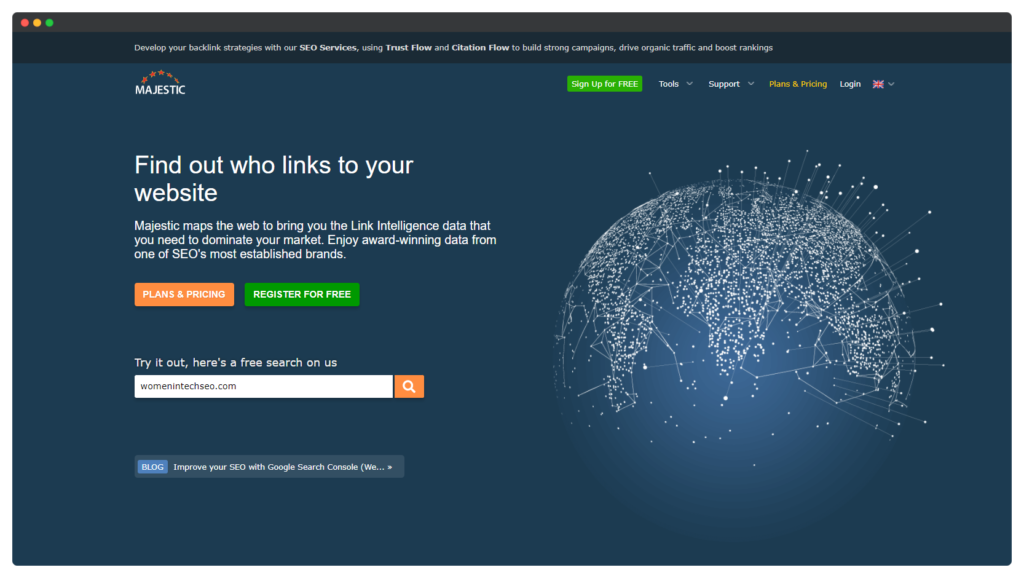 Among the Majestic cool features, you can find:
Ability to see the most highly ranking pages and posts in social media, as well as the most influential pages.
You can look over many sites for backlinks using their Bulk Backlink Checker.
Access to a comparison of different web pages and their backlinks performance.
A lite Majestic plan starts from $49.99, and you can even receive a 7-day money-back warranty.
As it comes from the name, SEO Power Suite is an SEO tool. Also, we prevent you that it is not an Ahrefs pricing alternative, as it is pretty expensive, but we will talk about it later. What really matters here is that SEO Power Suite runs directly on your desktop (both on Mac and PC). Of course, it is about what you prefer personally, but Ahrefs is a web-based tool, which means you pay for additional cloud-based storage. In SEO Power Suite, you will have most of your data on your PC, and won't be limited in your searching, project managing, or tracking.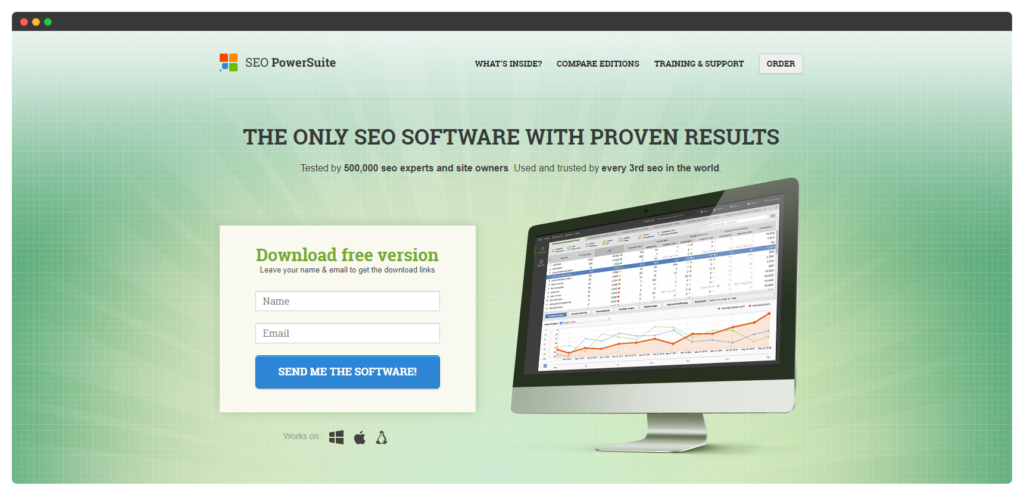 However, pay attention that some may find SEO Power Suite a bit outdated, and they will be right for a reason. Take, for instance, the general interface, which is definitely not very appealing. Furthermore, this tool is heavily packed with advanced stuff, meaning you have to be a senior working with it.
Coming back to prices, the annual plan is $299, but as we already said, you will receive access to everything at once. Also, SEO Power Suite has a free limited version (you won't be able to save your projects).
Continuing to talk about the free Ahrefs alternative tools with a specific focus, we are bumping into Google Trends. Google Trends is an original Google search application, which works with keywords. Of course, who knows better about the most trending keywords than Google? The best feature about it is that you can look for the popular words right now and seasonally and at what time. So, basically, you can foresee the tendency and build your keyword strategy accordingly.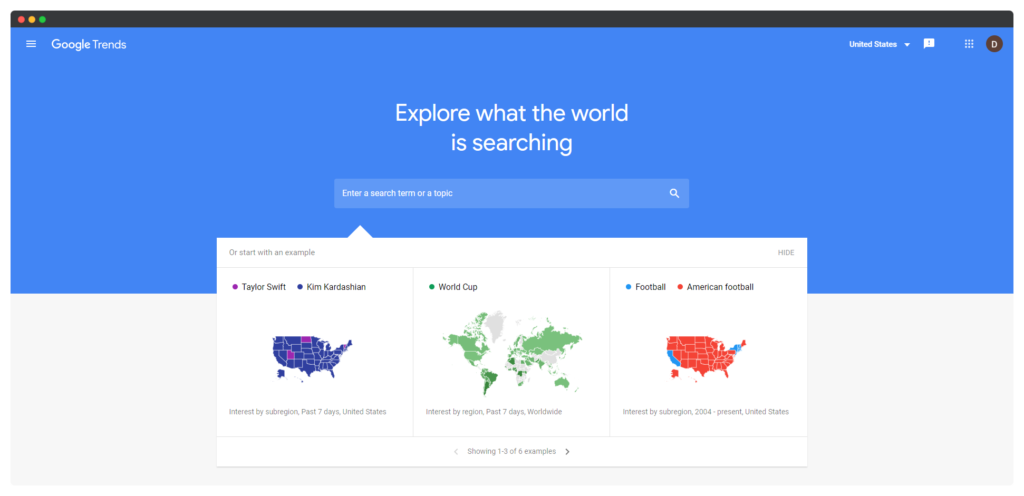 What's more, Google Trends can inform you about keywords related to your specific topic of interest. That means you will always know about what worries your clients the most. Additionally, Google Trends can identify the most trending stories in any part of the planet or region, so it doesn't matter at all where your clients are coming from.
And, finally, the most marvelous thing is that Google Trends is entirely free. So, yes, there is no reason at all not to use this app.
Screaming Frog, probably, can't be treated as an Ahrefs alternative free, but rather as a helpful addition to an all-in-one tool. In any case, Screaming Frog is one of the veterans of SEO and general website scrawling. It has a somewhat similar system to SEO Power Suite, as it is also desktop software. Screaming Frog's primary goal is to give you as much SEO data as possible and determine critical SEO issues. Needless to say that you can find quite the same features in Ahrefs, but with the help of Screaming Frog, you can inquire into more comprehensive data.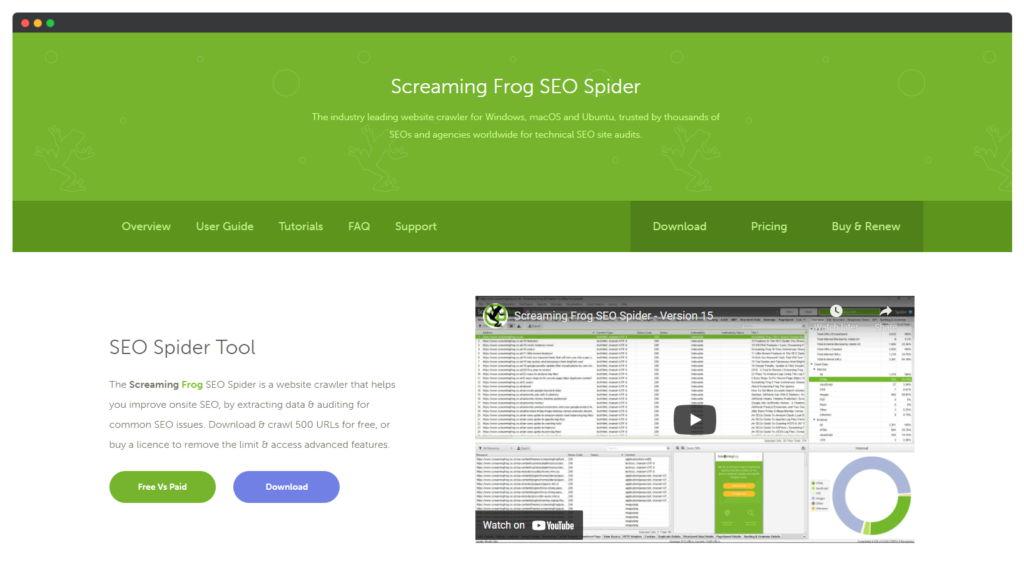 Screaming Frog will create Excel reports, in which it will tell about all the broken links, meta descriptions, number of titles, etc. It will take all the manual work for itself, and you won't need to worry about duplicate pages or redirects anymore.
Compared to how much Ahrefs costs, Screaming Frog is much friendlier. They have a limited free version, so you can try it to see the difference, and also, the paid version is £149.00 a year.
And last but not least - Moz. You should know that it is not the most extraordinary tool, compared to many of which we had talked about before. Still, it is a good level app, which many people can find as a real Ahrefs pricing alternative.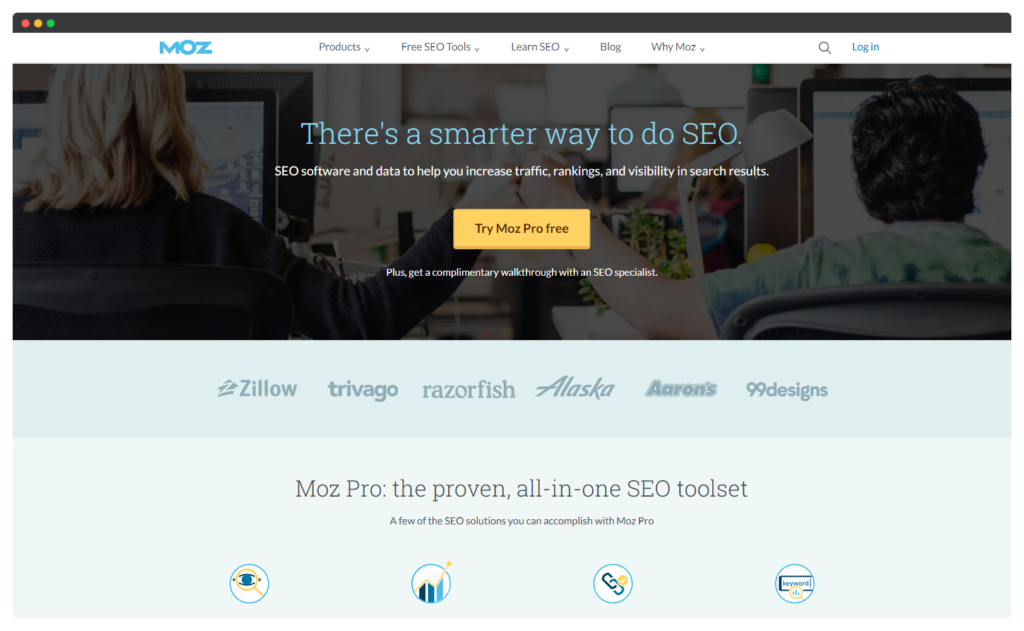 So, what exactly can I give to you? First of all, it is Keyword Explorer, Moz's keyword tool, which works with long-tail propositions. Also, the other great news is Domain Analysis Tool, which shows you the data about the page's authority and metrics to have a vision about your ranking performance. Going further, Moz makes an audit of all possible faults and even can give you some advice to improve your rankings on the field.
Talking about the Ahrefs price and Moz price is the same thing, actually - $99. It is the cheapest plan, and it goes up to $599 monthly. However, paying earlier, you will have a 20% discount. There is a 30-day free trial, but a credit card is required.
Final thoughts
If you read this article - you have already tried Ahrefs, and regardless of all its pluses, you are looking for more. Well, these tools have their own pros and cons, but you definitely have where to choose from.
In any case, the final choice will depend on budget, segment, and particular attributes needed. Also, if you are really at the beginning and don't know what you want, you can try free versions of each of the proposed tools and identify the most suitable for you.