All you need to know about the Facebook sales funnel
Contents:
Facebook isn't just an online sales funnel. It is one of the most powerful lead generation tools that we have for now. After all,  it's not difficult to set it up, but it's maybe difficult to survey the trends. 
Facebook is something to which you have to find the right approach, and it will give you a hundred percent return. And this becomes more than a topic of current interest, taking into account the newly came Apple policy. This guide will tell you everything about Facebook ads for e-commerce and how to deal with it in 2021.
Why is Facebook a sales funnel, which you have to set up?
Here we have only two quick and straightforward answers: Facebook is the most powerful social media platform, and you need to build brand awareness and bring new leads.
Let's clarify it, Facebook has over 2.5 billion users per month, so it's no doubt that even the emergence of other social networks can't bring it down. The audience is growing every year, and it is an opportunity to start making money on it right now.
Mixing Facebook ads and quality content will bring you to another level. You will convert dozens of clients to actual buyers.
The second point is expanding your customer base. Producing organic content has never been so essential and so traffic-providing, but mixing Facebook ads and quality content will bring you to another level. By creating a Facebook sales funnel, you will convert dozens of clients to actual buyers, and at the same time, observe stats and customer settings.
Besides, one of the key reasons to work on Facebook is its relatively low price, particularly compared with classical PPC ads.
That is why we have created a unique approached guide, including the latest trends and mind blowers.
Comprehensive guide on creating an eCommerce sales funnel:
Before we begin, it is crucial to understand the nature of the funnel. By making a funnel, you create an outstanding customer experience, basically giving them a hand and leading them from cold interest to buying. Now, considering that, we can develop a logical strategy for successful conversions. As Grayling agency puts it: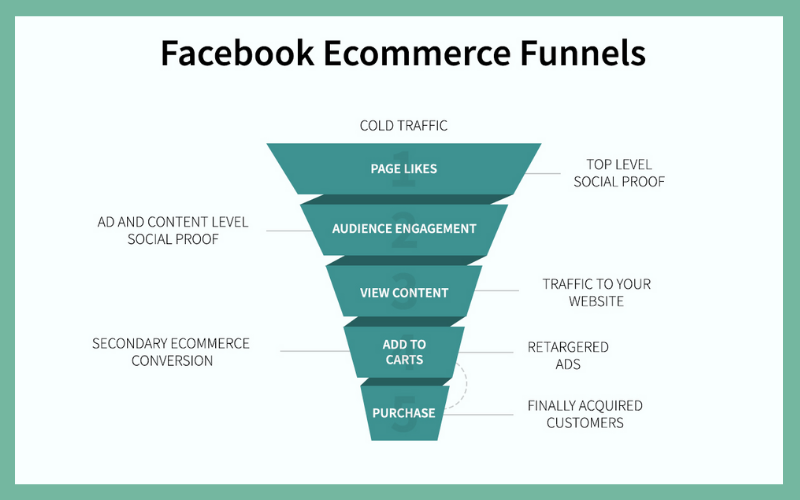 Start from a ready-made audience
Always start by turning around and watching what you have for the moment. Customers who already have been with you for some time are departure points. These people are your most loyal fans, so targeting them will be one hundred percent effective.
Here you can also include clients from your website. Plus, it is a great way to test your content and see what will pass and what will not. And the next council is about it.
Target right content
It all begins with content. High-quality texts, videos, posts, ebooks, are a sales-driving force. What you have to do is to identify which kind of content your audience enjoys the most. For that purpose, try each of the variants above and observe which suits your branch.
Also, don't forget that your aim is to get people to your website and that is why your next step is to link Facebook with it. Make sure that content from the funnel is already on the webpage.
Custom your old clients
Now we can initiate customer settings and disclose all charms of the e-commerce marketing funnel on Facebook. Firstly, what is a custom audience? It is your so-called 'warmed audience', people whom you have in your email lists, clients who regularly make purchases, and just potential customers who google your products. Engaging them is your first mission in working with e-commerce on Facebook.
Open your Facebook Ads Manager and choose Audiences. Then select Create Audience and go to Custom Audience. Here you come to a variety of sources, based on which you will create different types of custom audiences. Among these are the audience of past purchases, the audience of the website visitors, the Facebook page audience, the audience of email subscribers, and the Instagram business profile audience.
The first thing to know is it is better to make custom audiences for different time periods from 7 to 180 days, it is up to you.
Secondly, custom audiences are quite easy to set, so we will show you how to do it on the example of Facebook page custom audiences. We start by selecting the Facebook page as a source and choose Everyone Who Engaged With Your Page position. Now, all that rests is to give a name to this specific audience and you can click Create an Audience.
This is the simplest option, but for setting some other audiences you will need other eCommerce ads, about which we will tell below.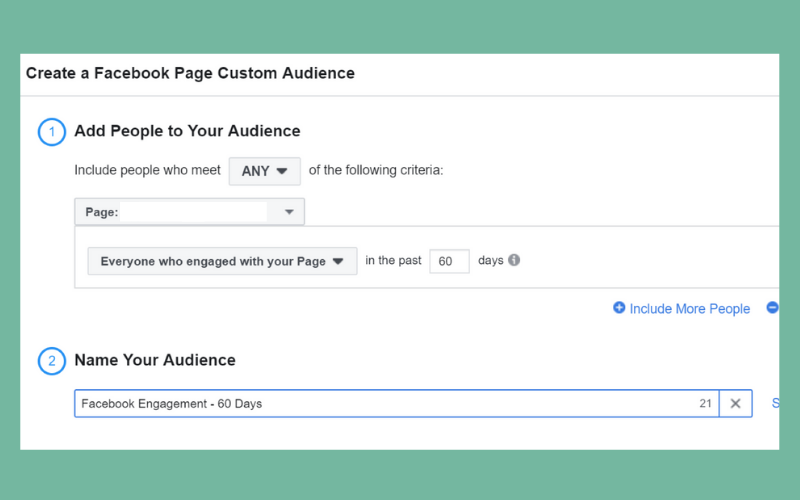 Adopt Facebook Pixel
Pixel is an ad, which is used in a sum with many other Facebook settings. You will need it for remarketing campaigns and audience building.
Just choose Tools in the menu and click Create a Pixel. You will see this picture.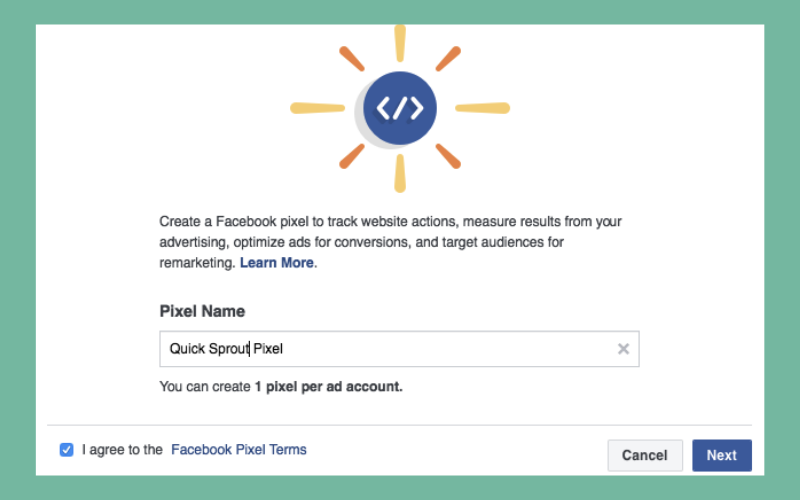 When you'll pass it, the program will demand whether you prefer to copy and paste a code or utilize Tag Manager. Most frequently we recommend copying the code. Meanwhile, Facebook will generate it and you just copy and past it to your original website code.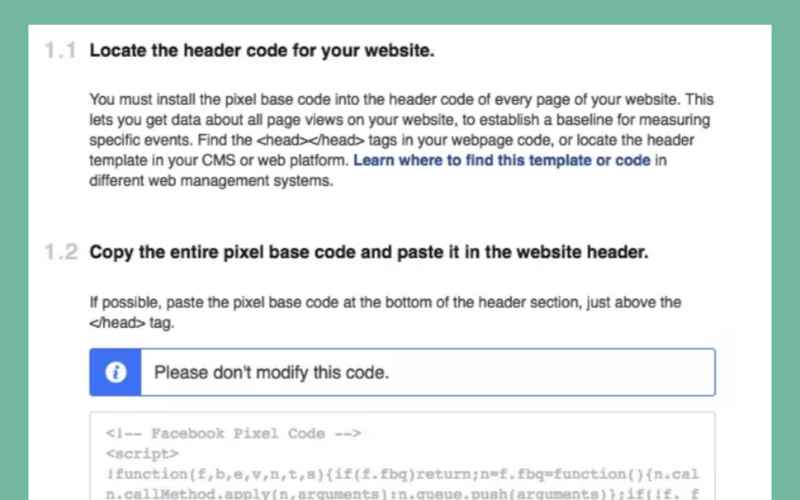 As we are done with pixel, we can go back to creating more complex audiences and implement the remarketing strategies.
Search for Lookalike audience
A lookalike audience is fully based on a custom audience, while a lookalike or 'cold' audience uses Facebook pixel to track the stats of previous purchases. Combining these two instruments allows targeting similar people, relying on their interests, preferences, and demographics. The main distinction from a custom audience is that these so-called 'cold clients' have similar attractions with your main audience and can be converted to 'warm clients'.
So, to find new customers, check Audiences and choose to Create a Lookalike Audience.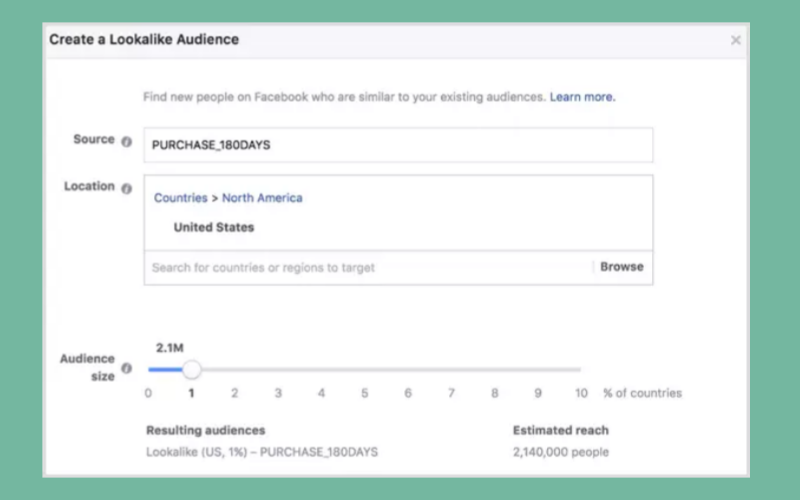 Here you have to select location and audience size. Normally, we take 1%, because it corresponds best to the real number of people, who probably want to buy from you. The source is also chosen depending on your logical preferences.
That's all, we finally set up the audience.
Time for remarketing campaign
The key point of the whole Facebook eCommerce target is understanding that it's not something that you can do and forget. It's about being on the wave and doing remarketing all the time, giving no chance to the clients to abandon you or pass over.
At this stage, we take our newly created audience and do the same thing we did at the beginning. We produce more pieces of content and with the help of a set of custom audiences promote it. One more time select Facebook Page engagement and voila. This way we warm clients up even more and encourage them to make purchases.
What's fresh here to adopt? It's an excellent time to start capturing your website audience. For this, as always go to Create Audience and Custom Audience. Now just choose the Website Traffic button. Now, use Facebook pixel and include all Website Visitors. Next your aim to decide the time period audience and what pages of your website to engage (maybe all).
Then select Create an Ad Using the Audience and Website Conversion position. If you will also use the carousel format, it will all lead you to exhibit your best products from the website on Facebook. At that moment, you will definitely start making money and gaining your first conversions.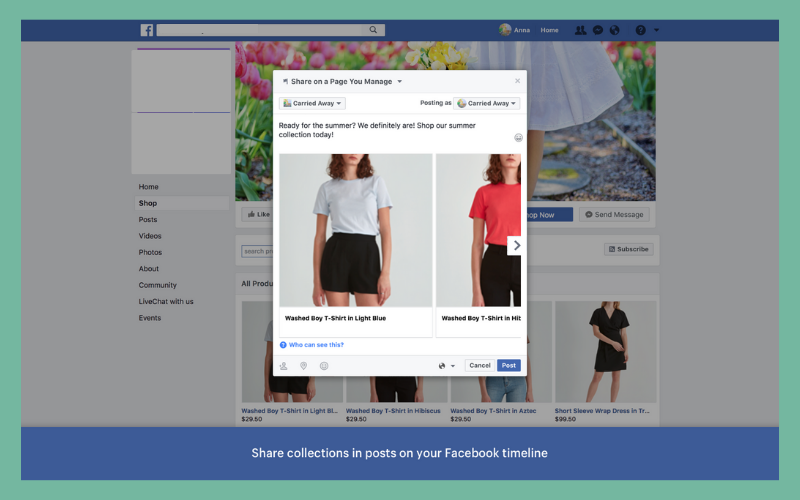 Target narrowly-focused groups
The next steps in your funnel can be mixed or changed by sequence, but it's just because there is no one universal e-commerce facebook funnel for everybody. Usually many of the moves explained in this article are interchangeable.
So, analyze the picture and try to focus on a more narrow audience to hot them even bigger. You can engage people who saw your goods during the last 14 days, for example. You do exactly the same procedure as in the paragraph above, the only distinction that you put 14 days target time.
Probably you are thinking that warming up customers, even more, is already impossible. The thing is everything is possible in marketing. This time we offer you to check clients, who put some products in their bag on the website but are still hesitating to buy. What you can do is push your customers a bit and create another little reminder for them.
Start from Ads Manager, as usual. Then choose Audiences, then Custom Audiences, and select Website Traffic as a source. Next, just make everything like on the screen below and tap the Add to Cart section and how many days want to target ( we recommend 3-4).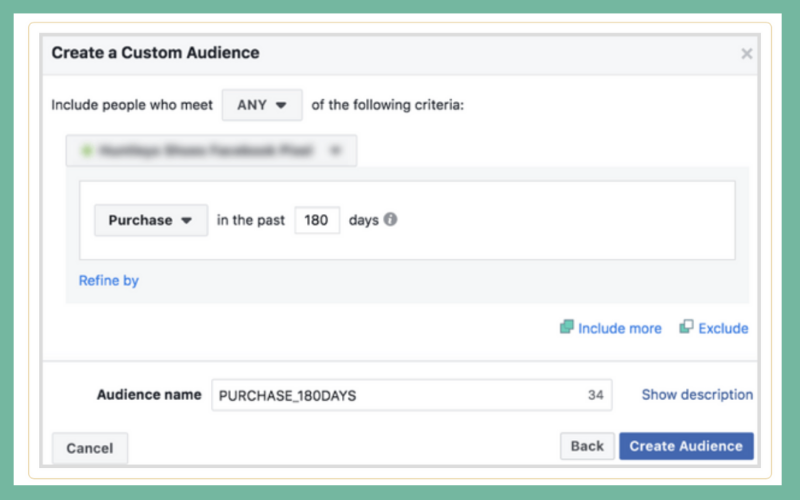 Now, they are ready. Bravo, you are magnificent and your customers are your actual buyers.
New 2021 e-commerce Facebook ads approach
The funnel shown above is fundamental and not really difficult to implement in the structure of your brand. However, game rules are changing all the time, and you have to be prepared. So, what is it new Facebook ads approach?
Recently Apple has announced the last iOS update, which requires a new privacy policy. It is called ATT, or 'AppTrackingTransparency'. What's important in this renovation for Facebook's target eCommerce? It substitutes the system. But don't worry funnel making is still actual, but you have to consider some changes.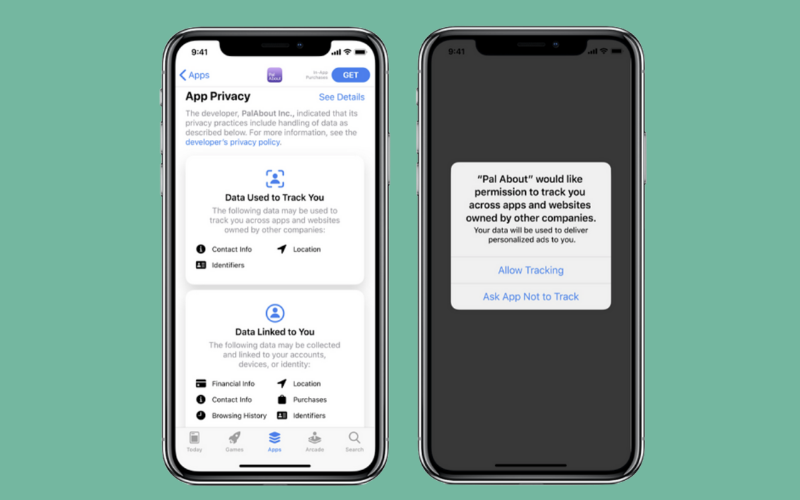 ATT will ask Apple users, whether they allow the app to track their activities and Facebook is not an exception. The problem is that most Apple lovers don't want to share their personal affairs with everybody, and that is an understandable choice. Yet an impact on everyday targets and information collecting is huge and we will tell you about newly presented steps from Facebook what to implement or what to get rid of.
According to Facebook Web Events will be highly affected and you are going to have the ability to set up no more than eight events on each domain. Also, revise the Resource Center tab and update ad sets.
When it comes to actions for App Advertisers, the very first thing to do is to update your SDK version to one that will support Apple's SKAdNetwork API. Then conversions in Events Manager have to be optimized for App Events, Value, and Mobile App Installs with Automated App Ads.
Plus, when you want to create an iOS 14 app campaign you have to take into account that only one ad account per app, nine campaigns per app, and five ad sets per campaign of the same optimization type can be installed.
Also, some new restrictions:
Custom audiences for inclusion won't be available on the mobile app.
So is an ability to provide a link that sends people to a custom view after they install an app.
Reach and Frequency buying doesn't support iOS 14 campaigns.
Events from the last iOS users, who resigned from Facebook tracking, won't be included in Website Custom Audiences.
Facebook has provided tools to highlight app events that can be used for ads, legally.
Conclusions
How to make funnels? Be on the frontline of events and remarket your audience every time. Even if we can't say for sure how Apple updates will mirror our reality, we know Facebook funnels will remain an integral part of marketing. Issuing an outstanding customer journey is a direct way to evolve brand awareness. Furthermore, you can basically 'set up' your ideal customers and engage a purchasing capable audience. We can describe the pros of Facebook funnels for a long time, so why don't you just do it yourself and see an outstanding result with your eyes.